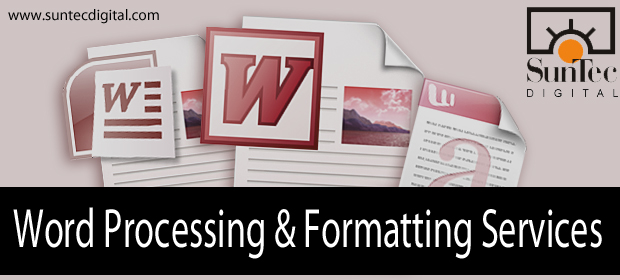 With the digitization of documents/books/files/reports, the demand for specialized services such as word processing and formatting is also increasing. Word processing and formatting services include rearranging pre-existing word documents to make them look professional and attractive. MS-Word documents can be customized in different styles and formats. Word processing services involve using a computer to create, edit and print the text. Outlines, reports, letters, dissertations, bibliographies and research papers are some of the examples of documents created using word processor. These services are commonly used by journalists, writers, educators, healthcare professionals, students, self-employed, entrepreneurs and businesses.
Word processing and word formatting services require attention, time and a good knowledge of MS-Word.  Outsourcing processing and formatting jobs to a professional and experienced service provider helps you get your document formatted, eliminate any errors in the document, augment the quality of the document, add design and templates etc. as per your requirement. MS-Word experts can produce editable electronic copies of any document and also, create an exact or an even better replica of PDF, HTML, and CSS design files in MS-Word with efficiency, speed and high accuracy. Word formatting professionals are skilled at creating presentations, eBooks, proposals and other similar documents using Microsoft Word.
Below listed are some of the most widely used word processing and formatting services:
Survey Word Processing
Adobe PDF to Word Processing
Reports Word Processing
Manuscripts Word Processing
Creation of Resume / Curriculum Vitae
Creation of Charts / Algorithms / Graphs etc. in Word
Creation of Manuals / Proposals / Bids
Typing of data from Word, Books or any other Documents
Editing of Text
Formatting or Adjustment of Text
Preparation of Index
Including Headers And Footers
Adding Page Numbers, Hyperlinks or Bookmarks
Processing of Reports, Manuscripts or any Other Documents
OCR Spell Check
Applying Customized Styles
Defining Page Sizes and Margins
Changing the complete format of the text document
Providing Customized Word Templates designed for particular requirements
Benefits of outsourcing word processing and formatting services:
Cost effective solutions
Skilled, knowledgeable and experienced MS-Word experts
100% authentic and error-free end results
Accurate, flexible and reliable word processing solutions
Fastest turnaround time
Use of latest tools and techniques
Dynamically managed, checked and organized documents
Better consistency of documents
Safe handling and confidentiality of documents
Outsourcing firms offer a free trial
The final output is delivered to the client as per the medium of their choice (i.e. – Email, CD or secured FTP)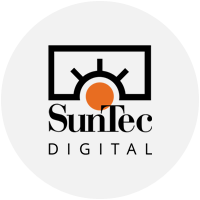 Brought to you by the Marketing and Communications Team at SunTec Digital. We publish tips & tricks, informed opinions, and interesting stories about Digital publishing solutions & industry trends. Join our mailing list to stay ahead of the curve.