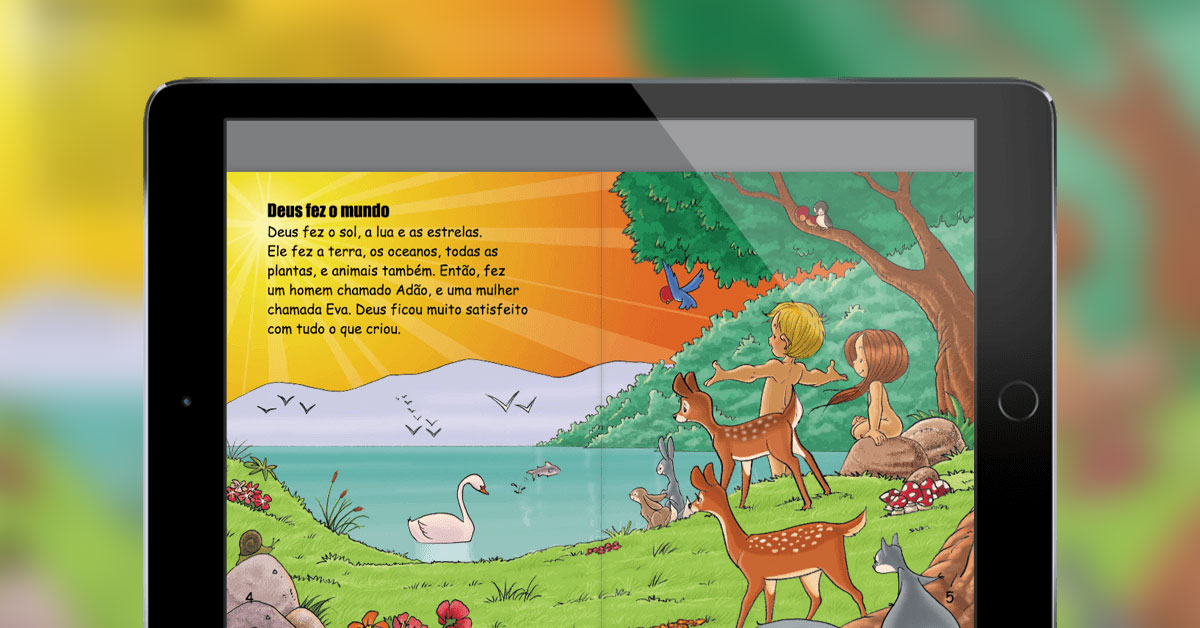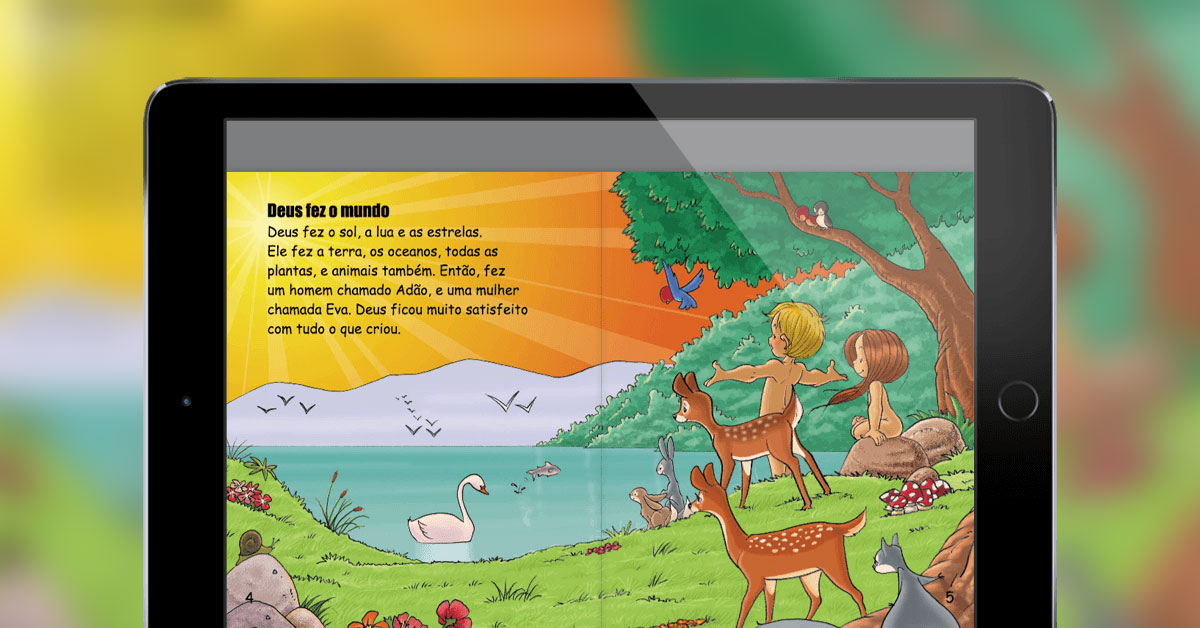 While most of the publishing industry looks at the digital medium for the conversion of their books, there is perhaps a lot more about the medium than just eBooks when it comes to children's book conversion. Children consume digital content in many ways, including videos, animations, audiobooks, and digital comic books.
There was a time when children would spend hours in the library or wait for several months just to get a hand on their favorite book. Thanks to technology, children can access their favorite books with the help of handheld devices from the comfort of their homes. Neither the children nor their parents need to worry about running from one book shop to the other just to get a copy of a particular book.
With devices such as Amazon Kindle, publishers can easily create content that will directly reach the reader without the requirement of any physical transfer of goods. Thanks to read aloud fixed layout eBook conversion services, publishers can easily create audiobooks as well for children all around the world.
What are Children's eBook conversion services?
Children's eBook conversion services enable individual authors and publishers of children's books all around the world to get their literary work converted into digital format for easy access across devices. Many publishers avail end-to-end conversion services for their children's eBooks to get a range of services under one roof.
This includes content compilation, proofreading, image selection, technical integration submission, distribution, and pricing. Children's eBooks have certainly democratized the publishing space. Anyone with good content and attention to detail towards children's books can get their work published even without a huge budget.
Besides the services mentioned above, eBook Creation Services also involve the creation of dedicated Children book apps available for download and worldwide access. Authors and publishers all around the world can get their own dedicated mobile or tablet application developed for different operating software such as iOS and Android.
Publishers can upload new children's eBooks, learning material, updates, and other interactive stuff to these applications – and also include advertisements or charge a price for premium products, services, or subscriptions. Such applications are like virtual bookstores where publishers and authors can feature the best of their material and promote it in many creative ways to lure readers and create a loyal readership base.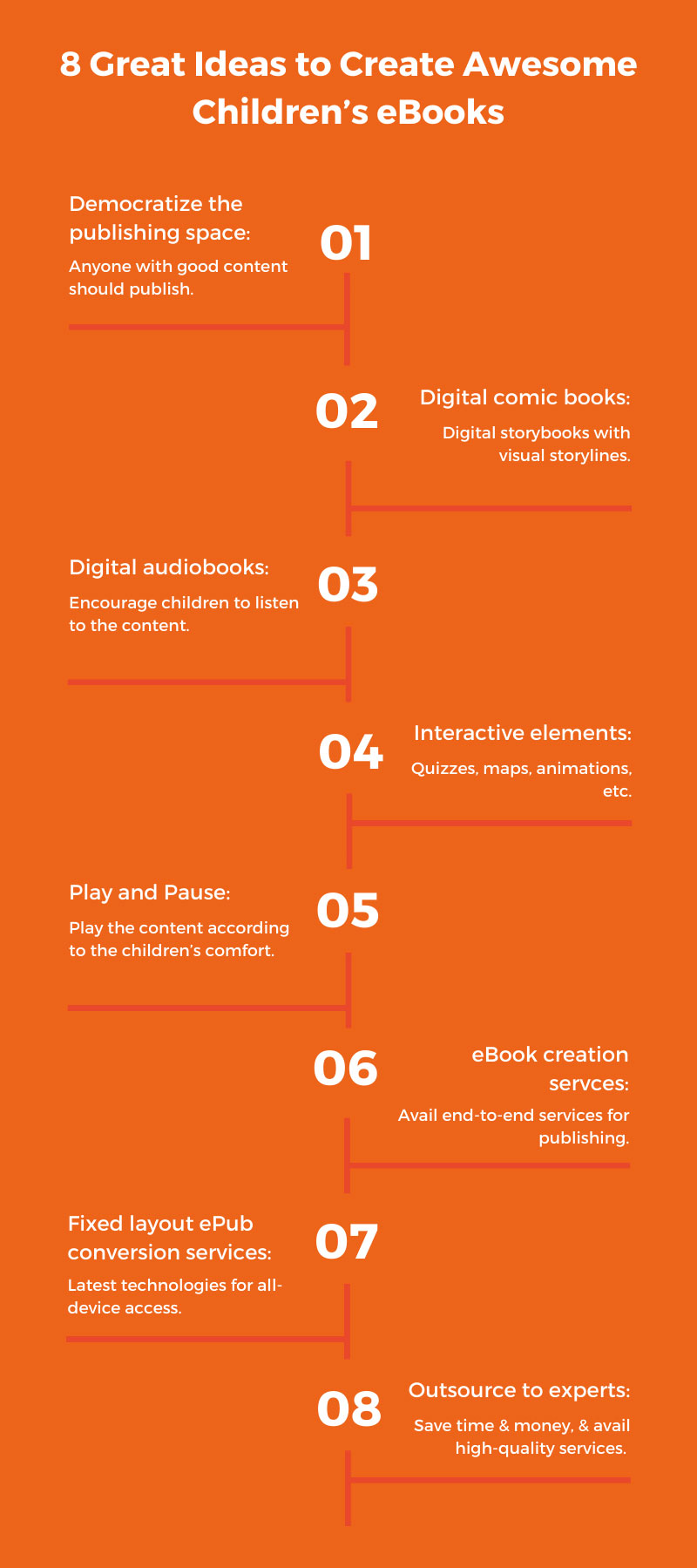 Creating interactive eBooks with digital content solutions
Digital content solutions allow publishers and authors to include many interactive elements, such as images, cartoons, cliparts, videos, animations, puzzles, quizzes, maps, GIFs, and lots more. Such interactive elements enhance the storytelling process by adding extra dimensions to children's eBooks.
The best thing about interactive eBooks is that they help the visualization process of children. Even very fancy concepts written in plain text are usually unsuccessful in making children visualize the actual scene. Interactive elements provide them with an exact image of the text – taking them to a different world altogether. This, in turn, also helps enhance children's creativity.
Digital comic books are just like traditional comic books. But unlike physical comic books, these books don't face the threat of suffering physical damage. They can be zoomed as many times, saved on multiple devices, and can also include interactive elements that involve the movement of the characters. Music, audio, and animations can be added to these comics to make the content more engaging.
A team of illustrators, animators, coders, creative writers, and musicians come together to create digital comic books as well as children's eBook applications. It is always beneficial for authors and publishers to avail expert services to create interesting and engaging eBooks of high quality, without any technical glitches. You would be amazed to know how SunTec Digital converted a superhero book into an amazing digital book.
How children's eBook conversion services are helping authors
Children's ebook conversion services are helping authors create content that can be accessed by all kinds of readers. The amount of flexibility children's eBooks offer is tremendous, compared to any other medium. With the help of their parents, children can access eBooks on all kinds of devices – be it mobile, tablet, television, laptop, or personal computer.
Children can also play and pause the books according to their own comfort. The content can be played in the 'autoplay' mode and even the audio can be played or paused according to the user's comfort. The speed of the audio can also be adjusted to suit the child's comfort level. Fixed layout epub conversion services help authors and publishers get expert help to publish their eBooks using the latest technologies such as ePub3, CSS3, and HTML5.
While the authors provide the content, experts take care of the technical part of things while also involving subject matter experts to avoid any factual or creative errors. Children apps are interactive narrative in nature and the conversion team uses its creative flair while embedding interactive features into the app to make the product more appealing and interesting for the audience – children in this case.
Digital content solutions are enabling a new breed of authors and storytellers applying the best of their skills to enhance the reading experience while keeping the storyline as heartfelt and genuine as possible. Compassion and sensitivity are keys to creating children's content that clicks, and that is all authors and content creators need to focus on.
Independent authors and creators of children's eBooks can always avail professional eBook Creation Services to create state of the art children's eBooks that help establish themselves as a brand and create a legacy that might live on forever. Authors might get in touch with experts for specialized services and leave no stone unturned in creating your next literary masterpiece for children. Who knows, one such author – perhaps you – might be the next Enid Blyton or J.K. Rowling?
Conclusion
If you are an author or publisher specializing in children's books or stories, now is a great time to create your next big children's eBook, digital comic, or children's audiobook. Avail fixed layout ePub conversion services for end-to-end children's eBook creation and conversion to manage every aspect of your eBook – from ideation to realization.
SunTec Digital is capable of converting children's books into multiple digital formats – Standard ePub, Multimedia or Enhanced ePub, Fixed Layout ePub for the iBookstore which maintains the layout of the original book, KF8 Fixed Layout for children books, Flash Flip Book for web delivery. The company has provided eBook conversion services to hundreds of renowned authors and publishers from over 30 countries over the past two decades and offers affordable eBook creation services at the least turnaround time.
SunTec Digital offers read aloud fixed layout eBook conversion services and specializes in offering children books for iPhone and iPad and Multi-book Applications compatible with other devices. SunTec Digital works with a large number of book publishers including Random House, TPB, RFB&D, UPNE, Bonnier, etc. Reach millions of digital readers within a fraction of seconds, through our Children eBook Conversion Services. Get a free quote by emailing all your requirements to info@suntecdigital.com.
FAQs
Q
1. What are the advantages of children's eBook conversion services?
A
eBook conversion services help authors and publishers create multi-device children's digital books that can be accessed by children and their parents from all parts of the world. End-to-end conversion services help authors get expert help for all stages of publishing, from content compilation to development, distribution, marketing, and promotion.
Q
2. What features should be added to make successful children's eBooks?
A
Features, such as audio, comic strips, play and pause, speed control, and interactive elements such as images, animations, videos, quizzes, puzzles, maps, cliparts, GIFs, and cartoons can really help create eBooks that are a hit with children.
Q
3. How can I benefit from fixed layout ePub conversion services?
A
Fixed layout ePub conversion services help authors convert their text and other content to digital format with the help of flexible technologies such as ePub3, CSS3, and HTML5. eBooks created using these technologies can be easily accessed across different devices, such as mobiles, tablets, laptops, and computers.