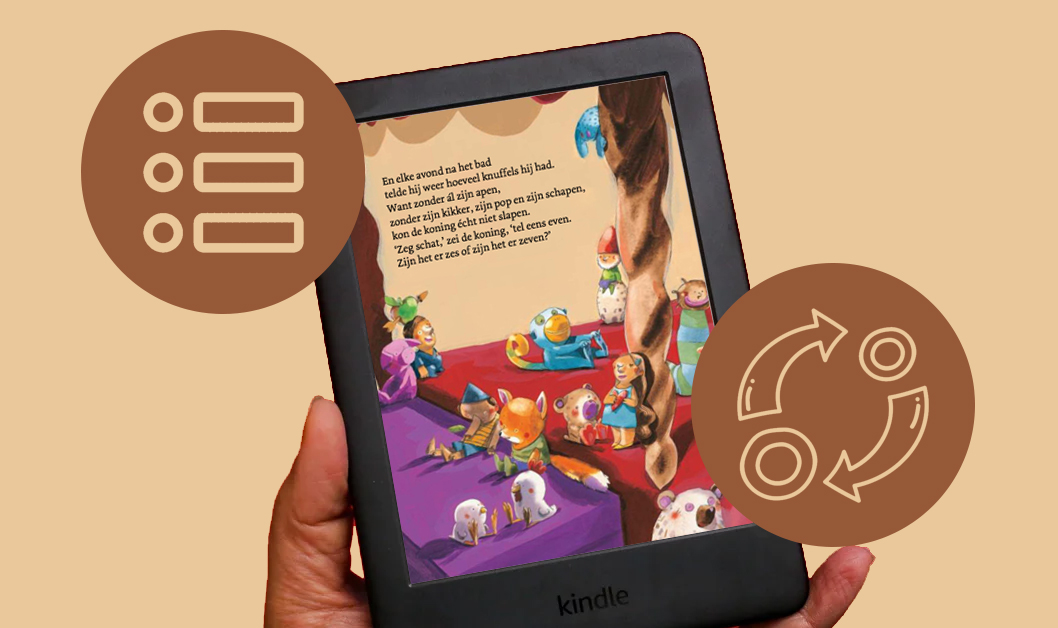 Yes, Amazon Kindle is indeed one of the most popular eBook platforms around the world – and if you are planning to become the next bestselling author – Amazon Kindle is the place for you. Amazon Kindle is empowering many first-time publishers around the world to publish their work using a tried and tested system which is catering to millions of readers around the world. Amazon Kindle provides publishers with a lot of advantages over other eBook distribution platforms as well as traditional publishers.
Kindle provides the opportunity for authors to publish their books not only on a digital platform, but in a paperback version as well. The paperback version is distributed by Amazon's network and can be ordered by any user around the world for instant delivery by paying the applicable shipping fees. Amazon Kindle allows authors to publish their work to an international audience, transcending the barriers of geophysical borders.
Amazon Kindle is free to use for publishers, and authors can do a lot with Kindle Direct-Publishing. The self-publishing platform is quite flexible, has a user-friendly interface, and contains many creative controls for authors. Authors who are not comfortable with having to use this or other platforms can also opt for enhanced eBook creation services.
Another amazing advantage of Amazon Kindle for publishers is that they can set up their books for pre-order. This helps them utilize the pre-launch time to create hype and let their potential readers know that their book is available on a renowned platform such as Amazon Kindle. Authors and publishers can also publish magazines using Kindle. You'd love to have a look at The Ultimate Guide to Starting Your Online Magazine to know how you can benefit from the experience of publishing experts.
Unique Benefits of Amazon Kindle – Why you should consider Amazon Formatting and Conversion services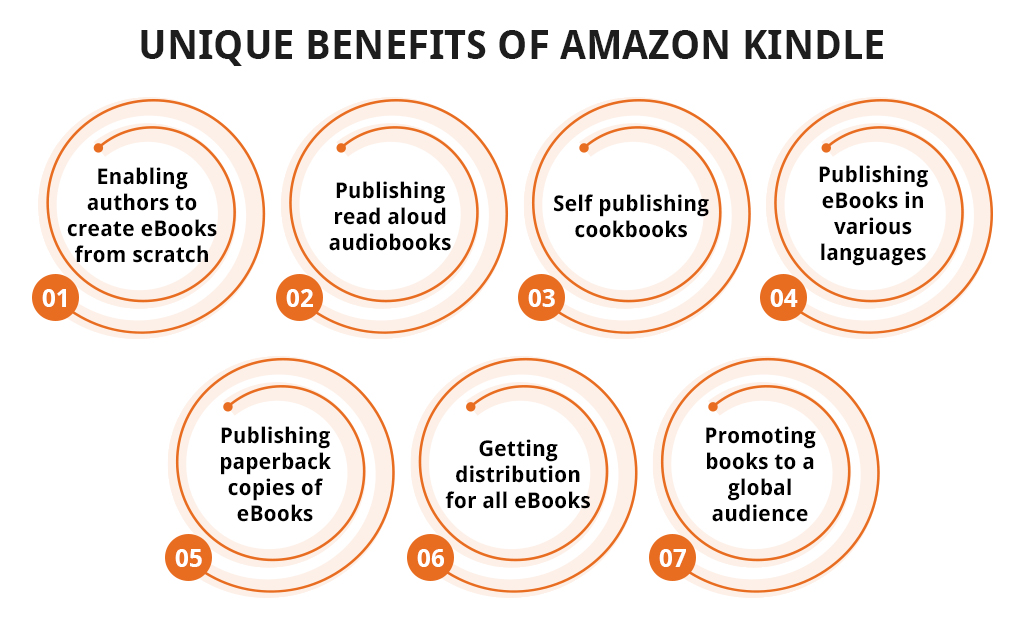 As mentioned above, Amazon Kindle has many advantages for everyone from first time publishers to experienced authors, from amateurs to traditional book writers. In fact, Amazon Kindle has some amazing benefits which makes the platform much better than many others. Let us have a look at some of these benefits in detail.
1. Amazon Kindle enables authors to create from scratch
Besides Kindle, other platforms such as iPhone Books, Google Play Books, Kobo and Nook are also encouraging authors to digitally publish books. However, Kindle's user-friendly platform makes it easy for first-timers to publish their work for a global audience. If you have ever used Microsoft Word, email, or Facebook before – using Amazon Kindle is going to be as easy and won't require you to go through a complex tutorial.
Amazon Kindle has a systematic content management system. The company (Amazon) has a wide distribution network and almost all countries are using one or more of Amazon's services. Kindle Self-Publishing has many options to create creative eBooks for readers and original manuscripts can be easily submitted to the platform.
Availing eBook creation services can also help authors who are accustomed to using the computer or the internet. Service providers keep your data secure and publish your Kindle book by converting it from any format – such as MS Word, PDF, or HTML5. Your Amazon Kindle books can be viewed on Kindle devices as well as on computer devices and tablets.
2. Publish amazing read aloud audiobooks
The biggest benefit of audiobooks over textbooks is the audio narration – which adds an extra dimension to Amazon Kindle books. Users can listen to every word included in your text, while also having the option to pause when needed and resume the audio from where they left. This feature enables busy professionals, multitaskers as well as people with disabilities to consume literary content.
Educational books, comics, fictional books, biographies as well as historical books can be converted into audiobooks that read out textual content word by word. Corporate executives, people working out as well as creative people and people who read or listen to audio content while traveling are a great audience for audiobooks.
Availing read aloud book creation services can help authors get expert assistance to publish Amazon Kindle books with all the features they want including narration in all languages.
3. Create amazing cookbooks using Amazon Kindle
Amazon has thousands of cookbooks by renowned nutritionists, fitness experts, and celebrity chefs. In fact, Amazon Kindle is one of the best resources for digital cookbooks. Whether it is exquisite dishes or everyday dishes, diet-based cooking, or preparing large meals, all types of cookbooks can be published on Amazon. Many authors have also published books on business information and their personal experiences of the food industry.
You can include features such as a table of contents, indexes, interactive images, special quick tips, external links, audio content, quizzes, and a lot more to make your Amazon Kindle cookbooks even more attractive and appealing.
Authors with some technical knowhow can self-publish digital cookbooks using Kindle Direct-Publishing. Others can avail cookbook conversion services to convert written manuscripts as well as digital manuscripts available in multiple formats with the help of professionals and experienced specialists.
4. Transcend the language barrier
Amazon allows authors to publish their work in multiple languages. Since Amazon's digital eBook distribution is available in over 170 countries, books are published in nearly all the languages known all around the world. The best thing is that Amazon has millions of readers in nearly every country and you can engage more by publishing your eBook(s) in multiple languages.
Native authors can reach a global audience by publishing their work in various languages. You can also create separate eBooks for all languages and have separate eBook, paperback, and shipping charges for all books depending on the location of the buyer. Amazon Kindle is becoming the predominant language by making the world smaller and enabling people from totally different backgrounds to engage with each other.
Multilingual ebook conversion services help authors get their text converted into other languages. Professional translators and knowledge experts work as a team on a single project to bring out the best of your book. The translated books are highly customized to suit the taste and sensitivity levels of your target audience, while working on several nuances.
Outsource Amazon Kindle conversion services
You can always outsource conversion services to experts to save time, money, and the research involved with studying Kindle Direct-Publishing and pitching your manuscripts. Experts take care of all aspects of your Kindle books – from proofreading the manuscript, to adding necessary interactive elements and distributing your eBook(s) digitally.
SunTec Digital offers end-to-end Amazon Kindle publishing services by creating highly customized eBooks to align with your vision. A specialized team of subject matter experts, editors, technical experts and distribution experts work together to create high quality eBooks containing interactive elements and state-of-the art images at affordable prices. Get a free quote by emailing all your requirements to info@suntecdigital.com.
FAQs
Q
1. What is Amazon Kindle Direct-Publishing?
A
Amazon Kindle Direct-Publishing is a self-publishing platform created by Amazon to enable authors to upload and manage their eBook content themselves. Authors can publish eBooks for free, and add interactive features, publish paperback copies and set their books for pre-order while paying minimum costs to amazon.
Q
2. What are the advantages of publishing on Amazon Kindle?
A
Amazon Kindle has several advantages for authors, such as cost-effectiveness, easy access, user-friendly interface, worldwide distribution, worldwide popularity of the platform, creative controls, interactive options and the opportunity to publish print copies and distribute them around the world.
Q
3. Why do I need to opt for Amazon Kindle eBook formatting and conversion services?
A
Amazon Kindle eBook formatting and conversion services help authors save time, money and valuable resources. Experts help with end-to-end services, including proofreading, adding interactive features, editing images, adding links, submitting content, interacting with Amazon in case of any issues and 24*7 customer service for all their authors.