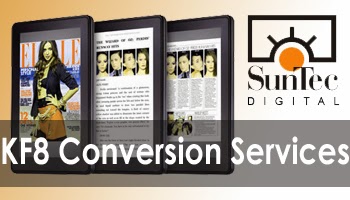 In 2012, Amazon launched its next generation feature-rich file format Kindle Format 8 (KF8). Offering a number of enhancements, KF8 has created opportunities to come up with highly advanced and attractive Kindle books. With this file format, one can choose from a number of formatting options to create some amazing Kindle books and augment the digital reading experience of the readers. The formatting capabilities in KF8 include HTML5 and CSS3 support, Text Pop Up, embedded fonts, scalable vector graphics and Kindle panel view.
There are a number of professional outsourcing companies that provide KF8 conversion services at reasonable prices and help writers and publishers convert their content into Kindle Format 8. One of the best feature of this file format is that it allows creation of great fixed layout books including children's books, novels, comics, technical books and others. Professional conversion companies have the required technology and tools using which the experts provide efficient services within a stipulated time frame.
Why should you avail customized KF8 conversion services from eminent outsourcing companies?
Outsourcing companies have dedicated and talented technical teams that work as per one's specific needs and requirements to provide the most suitable solutions at affordable prices.
The experts are equipped with the latest tools and techniques to handle the most complex conversions easily and with 100% accuracy.
They provide services within the briefest possible turnaround time.
Outsourcing saves one's precious time and money.
By outsourcing KF8 conversion to specialized vendors, you can choose to concentrate on important business activities to achieve business goals.
The experts also provide round the clock assistance to complete the work just in time.
Professional service providers conduct high degree quality check at various stages to ensure consistency and uniformity.
The conversion specialists can competently execute even the most complex requirements such as scalable vector graphics, fixed layouts, sidebars, drop caps, callouts, nested tables and numbered lists.
Tailor made KH8 conversion services that you can avail from outsourcing companies include:
Converting unstructured documents into strong content depositories
Creating appropriate KF8 fixed layouts for comics, graphic titles and children's books
Offering nearly 150 formatting capabilities, Kindle Format 8 is certainly fast replacing Mobi format. Scores of publishers and authors have created a number of KF8 titles and eBook readers are enjoying the enhanced reading and formatting features across all genres and types of books. You too can avail specialized KF8 conversion services and give the best experience to the readers.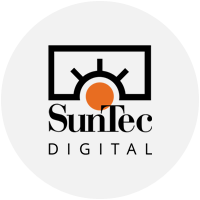 Brought to you by the Marketing and Communications Team at SunTec Digital. We publish tips & tricks, informed opinions, and interesting stories about Digital publishing solutions & industry trends. Join our mailing list to stay ahead of the curve.