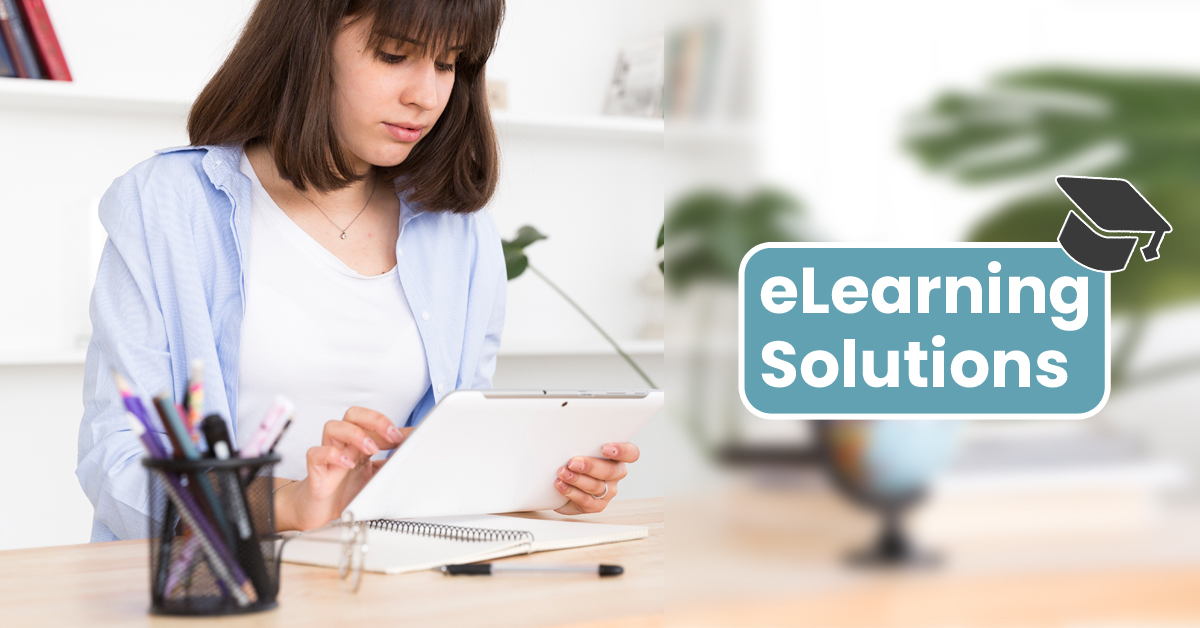 Remember, when the interactive whiteboards were introduced? How they brought in a remarkable sensation when they replaced the key teaching tools – chalk and duster. Similarly, the innovative online learning tools are making conventional classroom training a thing of the past.
eLearning is beneficial to almost every industry. But, its eminence in the corporate sector is noteworthy. Why? Because almost every organization is adopting eLearning solutions to train its employees. It not only benefits learners but organizations as well. The employers are benefited with an affordable and time-efficient way to train employees, partners and customers to increase adoption, retention, and revenue. On the other hand, employees benefit from the training that enhances their skills and improves knowledge. With such benefits, the demand for eLearning solutions is only increasing day by day.
eLearning In Brief
As the name suggests, electronic learning is where people are made to learn or trained through digital resources. Formalized learning material is presented to individuals online through automated devices such as computers, tabs, and mobiles. They can easily access the learning content through internet connectivity. This makes it easy for users to learn anytime, anywhere, as per their suitability with limited or no restrictions. In simple words, it is a medium to provide education and train people outside of a traditional classroom using electronic technologies.
Most people think that learning online will be boring or restrict personal interaction. However, it is highly interactive and responsive. It makes you feel as if you are inside the classroom by offering real-time experience through live webinars and lectures. One can communicate with trainers, professors, and students through chats or video calls. You can even stimulate debate among other individuals who are using the same platform through chat forums. It also allows you to share material in all kinds of formats such as videos, slideshows, word documents, and PDFs. It is one of the reasons why eLearning is emerging as a successful method of training and education.
The Top Benefits Of Online Learning
Here is the list of primary benefits eLearning:
Convenient And Flexible

In this digital era, where everyone is busy, eLearning is a boon. It gives you the flexibility to learn as per the availability. All you need is a mobile, laptop, tablet or desktop with good internet connectivity. Once you have any of the above, you can access the course content anytime and anywhere. You can utilize your free time to learn on your device – like office breaks, waiting for somebody, while traveling or simply relaxing on your couch. Besides, you don't have to match up to the pace of others to learn like conventional classroom learning. You can access your learning material when you have time. Or, when you feel your energy level and focus are maximized for retention.

Budget-friendly

Having eLearning solutions for your organization is an upfront investment that saves you money down the line. You save on the costs of travel expenses, documentation, catering and venue hire. You even cut down on the cost of facilitators and physical training materials, like, stationery, books, etc. The trainers' costs are also one-time as you can update and reuse your eLearning courses and materials. By spending on structuring a single training program, you can reach millions of users or learners online than you can in a conventional classroom workshop. Besides being cost-effective, it is environmentally friendly too. Since the process takes place in electronic format, paper consumption is significantly reduced.

Caters To Different Learning Styles

Every individual has a distinctive style of learning. Some retain more knowledge through interactive modes of learning like videos, others might prefer written notes. One of the most significant advantages of online learning is that it offers a wide range of content formats to choose from such as videos, PDF notes, infographics, case studies, etc. It also offers engaging methods of assessment, like quizzes and games. All in all, it offers fascinating ways to learn as per the users' level of understanding and preference.

Self-driven And Self-paced

At the beginning of an online training program, there are low chances that every user will have the same level of knowledge, skill or experience. There are times when some users are already familiar with certain parts of the training, whereas others might be completely new to the same sections. Due to such differences, some employees might learn quicker or some might learn slower than others. eLearning offers the flexibility to learn at your own pace as per your learning needs.

Digital Record Tracking

Corporate training usually requires hours of rigorous administrative work. Organizations need someone to keep track of the employees who – have been successfully completed, are still in progress, or have registered to the training program. Such requirements are eliminated through online training. Employees can easily register on the Learning Management System, and everything is sorted. No extra manpower to manage and keep records, no papers and bursting ring-back folders. You can easily keep a check on your trainees digitally. Just log on and access reports to identify which employees have started or finished their training, and who still needs a little push.

Interactivity And Gamification

Sometimes, simple notes and videos become monotonous to learn from. They may not be encouraging enough to drive active participation from employees. A significant eLearning solution offers Gamification. It is an engaging and visually compelling approach to present educational content to learners. It features interactive game elements and reward systems for better learner engagement. And, further provides interactivity-rich practice sessions that prepare the trainees for real-life implementation and set them up for success.

Expert Guidance And Support

Most people are under the illusion that training delivered digitally restricts you from interacting with your trainers or subject matter experts. However, eLearning does give you easy access to subject matter experts as there are always chances that one may need online facilitation and expert support. Trainees can get access to live tutorials and webinars. They can have personalized guidance through question and answer sessions and chat forums.

These benefits must have helped you determine if eLearning would be the best option for your workplace. However, it is always suggested to seek a professional service provider to structure reliable eLearning solutions as per your requirements. Doing it yourself is not an easy task. Often, people tend to include overly flashy graphics or animations which may distract the learners. Professionals, while designing eLearning courses for your employees, ensure that they only include aspects which will benefit both employer and employees.
Partner With SunTec Digital For Customized eLearning Solution!
Get ready to watch your people and business thrive by getting customized eLearning solutions from Suntec Digital. Drop a mail to info@suntecdigital.com and get a free consultation on online training from experts.