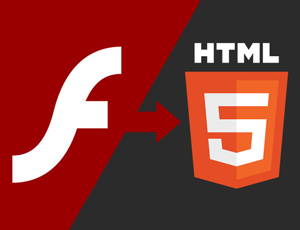 Flash has for years been the most dominant media plugin available for the web. However, Flash needs to be updated constantly and is not mobile browser compatible. It is not supported on iOS devices and the Apple founder and CEO Steve Jobs even criticized Flash for its lack of efficiency and security feature. Google followed suit by ending support for Flash in 2011. Well, all this was indeed an indication that the end was near for Flash. But, what was to happen next? Did HTML5 takeover?
Over the past few years, we have made HTML5 our world, as businesses spend their valuable resources converting from Flash to HTML5, struggling in their attempt to patch systems to support HTML5.
This gives us an edge and the ability to provide creative agencies and brands with useful advice and implementation support while making transition from Flash to HTML5. In this post we bring to you all the guidelines that we think will help you understand and to act upon Flash to HTML5 transition.
What does this transition mean to your brand?
We would advice you not to panic, as technology service providers are now ready to assist you. TechnoScore, the technology and apps development wing of SunTec enables brands to develop interactive and engaging mobile and web applications in HTML5.
We are currently working with many brands and eLearning firms and institutions that are making full transition to HTML5. These agencies and brands are enjoying the benefit of utilizing HTML5, which enables them to create interactive, engaging content that is also scalable. So, no more flash files, no need to create GIFs. Now you only have to focus on one area to launch your campaign.
It is worth noting that Flash was in fact never built for advertising, and hence brands had no option but to invest in various other tools to run campaigns based on Flash. Apart from software required for production you would have needed a distinct ad serving platform, reporting as well as tracking tools. However, with the introduction of HTML5 things have become simpler. Now we have platforms specifically developed for display advertising campaigns.
How can brands make a successful transition?
Change is imperative, so it is better to change now. We would advice brands to take advantage of this transition to discover new opportunities rather than merely scrutinizing your current Flash setup, and praying that eventually a piece of software will solve your Flash to HTML5 related woes.
Transition to HTML5 is a long term process and looking for quick fixes will only cause greater problems in the future. So, it is better to invest in HTML5 platforms today.
What can your brand expect from this transition in display advertising?
Well, brands do not have much choice in this respect. However, HTML5 does provide lot of scope for you to break free from conventional norms that you were made accustomed to while using Flash. HTML5 successfully delivers an engaging and interactive ad experience permitting brands to make use of digital storytelling that is appropriate.
Brands can now cut down on the need to have separate reporting platforms or technology stacks, which can provide them with more time to focus on creative and planning aspects of campaigns.
The display advertising industry is booming at a tremendous pace and now is the right time for upcoming as well as existing brands to explore diverse HTML5 solutions to figure out what suits them best. The sooner you act, the more successful you will be!
To learn how we can help you convert Flash to HTML5, please contact us or send your project specifications at info@suntecdigital.com and our experts will get back to you shortly.