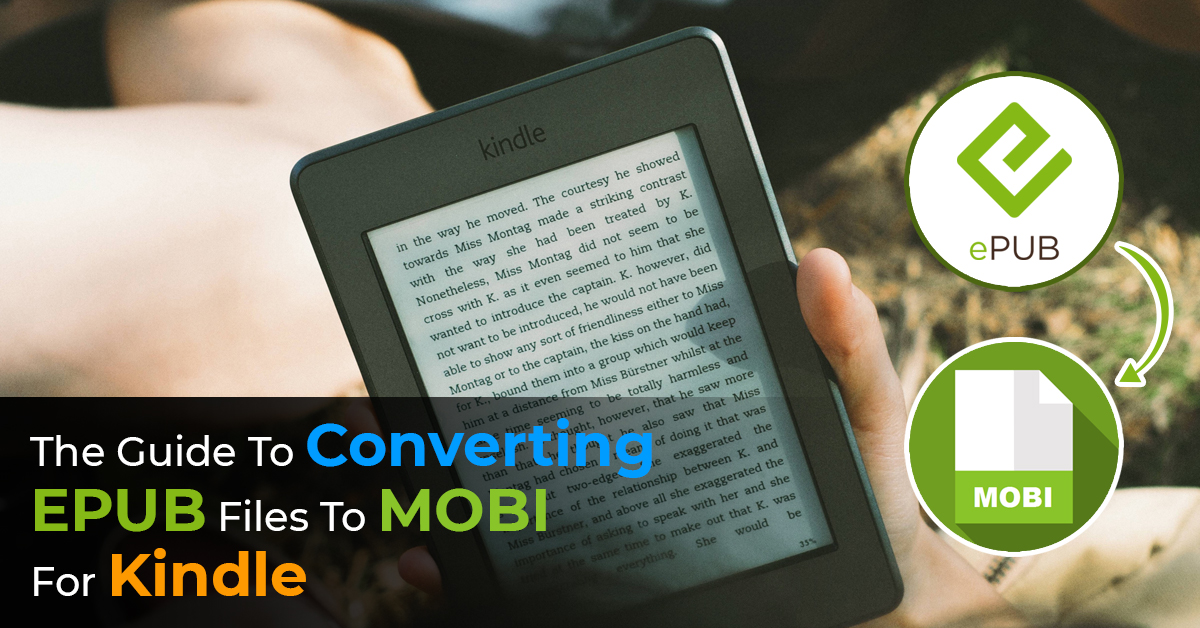 Amazon, indubitably, is the biggest retailer of eBooks with a whopping 60-80% of the market share. On the other hand, EPUB is considered one of the most powerful and widely used file formats for publishing eBooks.
Now the question is, why do we have to convert the "highly-preferred" formatted eBooks i.e. EPUB to some other format for the biggest retailer i.e. Amazon (Kindle)?
Well, the truth is Amazon Kindle devices don't support EPUB files. Instead, Amazon uses a proprietary format called MOBI or AZW3. And you certainly don't want to miss onto the biggest retailers.
Before you bombard yourself with all sorts of whys and hows, we will get you straight to the answers. Here we will talk about:
Why Should You Convert your File Formats to MOBI?
Top Tools to Convert eEUB to MOBI
Which File Conversion Tool is Right for You?
Why Should You Convert Your File Formats To MOBI?
In the age of digital transformation, Books have gained huge traction. Thus, it is more important than ever to stay updated with the trend and serve readers. Now that calls for properly converted file formats – one which is supported by diverse devices. Though the majority of book retailers support EPUB, PDF, and other such formats, Amazon operates a bit differently by sticking to its own file formatting named MOBI or AZW.
Considering Amazon market share, accepting its algorithm and converting your files into Amazon's preferred format must be an avenue to consider when publishing your eBook. And after all, it's not that difficult. The market has, for you, a good set of tools to help you with swift Amazon EPUB to MOBI format conversions without asking for anything in return. Yes, you read that right. In fact, we have compiled a list of the best ones, so let's jump straight into it:
Top Tools To Convert EPUB To MOBI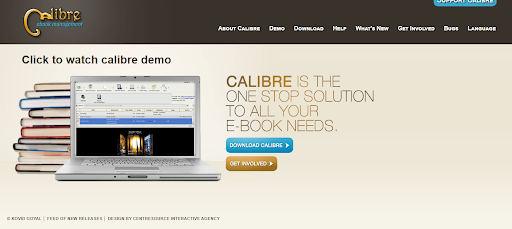 One of the oldest and best tools out there, Calibre is an open-source EPUB converter and a one-stop solution for all your eBook needs. With exceptional handy features to download, read and organize eBooks, it seamlessly operates on Windows, macOS, and Linux.
With the ability to perform any sort of file format conversion that one can think of, it provides added advantages to users by giving them extraordinary options like:
Editing the metadata
Changing the text size and font
Creating a table of contents
Replacing text with regular expressions
Customizing the output page size
However, certain users might find one drawback with Calibre which is related to DRM (Digital Rights Management) where users must download an additional plugin for Kindle and other DRM protected files. The tool, otherwise, is a sure bet for readers, authors and publishers.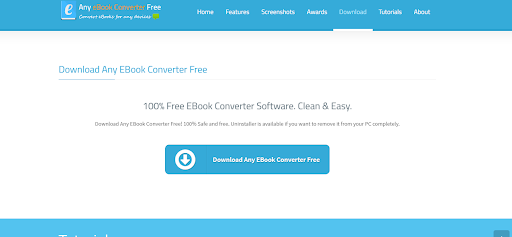 From its sleek and considerate design to a super user-friendly interface, Any eBook Converter is a free conversion tool that can convert a massive amount of eBooks in a quick span into your preferred format – one that suits your devices. It is a multithreaded converter, which means it can run up to 16 conversions simultaneously without needing to select and process files one by one. Users have two options to convert: a) by either dragging and dropping the files into the program b) or input files directly by opening a browser window and navigating to the source folder. The tool also has an added advantage wherein it can automatically detect and input all eBook files included in a folder or a sub-folder for that matter. Users can filter the required files accordingly that proceed for conversion.
Last but not least, it provides conversion presets for 200+ devices including Amazon Kindle, Sony Reader, iPad, Android devices, iPhone and any such devices with eBook reading ability.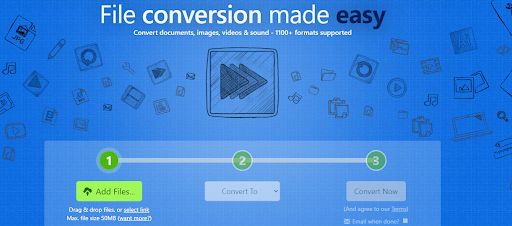 A browser-based conversion tool, Zamzar is a powerful, free and easy-to-use online EPUB converter. Supporting 1200+ formats, it aims to convert files in less than 10 minutes without having to download any sort of software. You just have to upload your eBook and within no time does the tool provide you a link to download your newly formatted book. However, after you've converted a file, make sure you download it within a day since Zamzar might delete it after 24 hours.
Further, users also have the leverage to opt-in for extra conversion services such as larger file sizes or online storage by signing up for a subscription.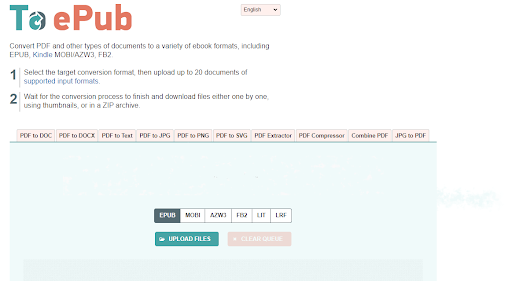 Yet another web-based application, ePub is a sure bet when it comes to performing batch file conversions. You can upload up to 20 documents of supported input formats at a time and it easily performs the conversion, without any hassle. Further, you don't have to follow the monotonous and annoying process of uploading one by one – all you have to do is simply drag and drop the files from your computer into the app and the job is done.
However, it doesn't support niche formats. It instead prefers the more popular eBook formats including: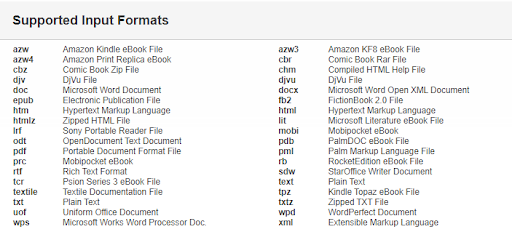 Though the supported formats are no less, in other cases you could switch to another tool.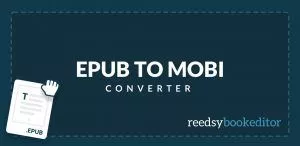 It is one of the simplest yet most effective tools that helps in converting any EPUB file into a MOBI file to be loaded on Kindle devices or apps. The best part: there's no learning curve to using it. All you have to do is simply drag and drop your EPUB file, select the format in which you want to convert, enter your email address, and within a few minutes, you will receive your brand-new MOBI file in your inbox as an attachment, where you can download it onto your computer.
Available for free, this EPUB to MOBI converter uses advanced conversion technology and is 100% secure while giving users complete assurance of data privacy.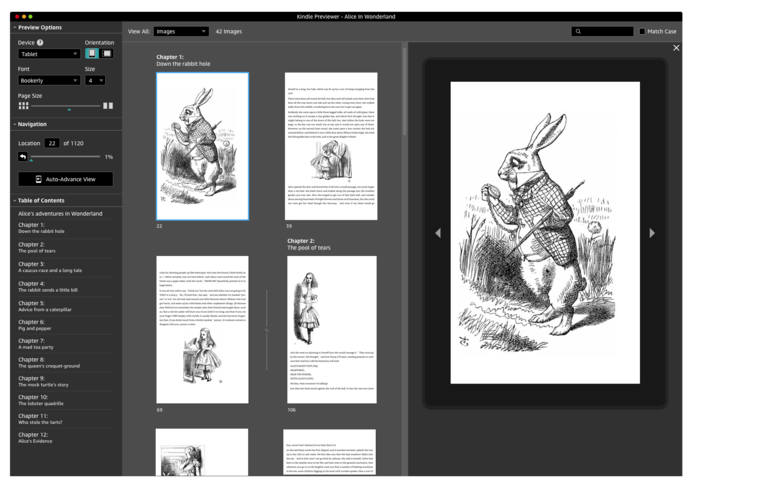 Created by Amazon, Kindle Previewer, as the name suggests, helps authors, publishers and other eBook service providers to preview their books before delivering them to customers. In other words, it shows how exactly your book will appear on Kindle look to buyers once it's converted.
Available for both Windows and Mac, it is a free desktop application that provides an extremely useful import and export function that helps in quickly converting EPUB to MOBI as well as auditing books for different screen sizes, font sizes and display orientations. When you upload an EPUB to KDP, Amazon automatically converts it for you. Users can enjoy the leverage of importing a whole list of eBook and document file types including Mobi, AZW, epub, HTML, XHTML, PRC, AZW3, AZW8, and Docx word file among others.
The basic aim of using Kindle Previewer is to see how the file will look once it's converted across diverse platforms such as Kindle, Android or iPhone app.
Which File Conversion Tool Is Right For You?
Well, that's not an easy question to answer and there's no room for biasness here. However, it depends on your eBook library, so you need to get hold of it before you choose any tool. Make sure you strike an equilibrium between your requirements and the tool's ability. So, all we can say is analyse well and choose wisely, smartly.
Further, sometimes you just don't want to be bothered to do the Amazon EPUB to MOBI converting yourself and honestly, that's okay. It may just be best for you to outsource Amazon kindle convert EPUB to MOBI to professionals and be assured of exceptional results.
Experts at SunTec Digital are well-acquainted with the Kindle Publishing Guidelines and help you enhance your eBook conversion journey with utmost ease and perfection. While maintaining high-quality standards, the team ensures the best possible display and readability for utmost reader satisfaction.