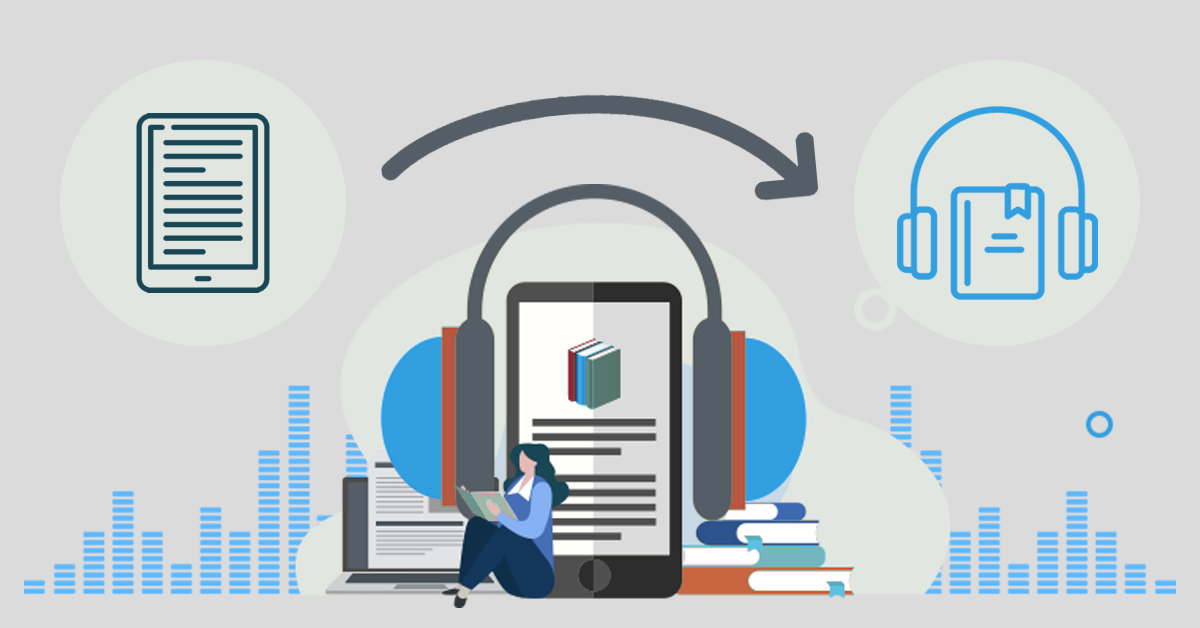 With the increasing use of technology also comes the problem of technology getting obsolete equally fast. The number of people opting for eBooks is increasing at a rapid rate and so are the kinds of digital eBook readers and their features. The authors as well as the publishing companies are always on the lookout for something new and innovative to offer to their readers.
A soundtrack can significantly augment the digital reading experience of eBook readers. Eminent conversion companies are now also adding sound effects to eBooks along with the conversion of books from one format to another and from paper books to eBooks. By adding music to eBooks, digital publishing and conversion companies are helping authors/writers offer an innovative option/feature to their audiences. Additionally, you can add audio to your eBooks to boost interactivity and engagement as well.
Adding sound effects to eBooks is especially beneficial for the authors of children's books and literature, and illustrations. While you add audio or music (to be specific) to interactive eBooks, the narration can be supported with a pleasant tune in the background. It is an amazing way to develop the interest of young children and encourage them to read books. It also makes narration much more fun and engaging for the kids as well as parents. Adding a piece of soothing music to motivational and self-help eBooks is also a great idea. The readers can relax their minds while they unwind. Great music lifts the mood of the readers and fills them with new and positive energy.
Music has a great impact on a person's mind and has the power to de-stress and soothe frayed nerves. Today, all of us lead a very stressful life and an eBook is a great companion after a hard-working day. The app is designed such that it learns the reading speed of the reader and adjusts the soundtrack accordingly so that it matches the speed of the text as you read.
You can add music to your existing eBooks or convert your paperbacks and hardcovers and then add the feature as per your requirement. It is important to trust only an expert with such a job to avoid any errors or imperfections. Nowadays readers demand and expect flawlessness and any minor blunder can be a big turn-off.
There are several ways to convert an eBook into an audiobook. A digital expert can take care of the entire conversion process and provide a seamless and hassle-free experience for you. Some of the prominent benefits of outsourcing to experts for adding sound effects to eBooks are as follows:
A perfect mix of resources
Expert and experienced specialists
Flawless conversion of books/manuscripts and other documents
Experience and knowledge of handling similar projects
Minimum turnaround time
Cost-effective prices
Boost your health with audiobooks
In recent times, following social distancing norms, mask protocols, and other safety rules amid the deadly coronavirus pandemic has taken a serious toll on mental and physical health. Audiobooks are undoubtedly the most helpful tool to take care of your health, both physically and mentally. All you have to do is just press play the audiobook, and you are good to go!
Let us discuss the various physical and mental health benefits of audiobooks that you must be aware of to put an end to negative thoughts and emotions and improve overall health and wellness.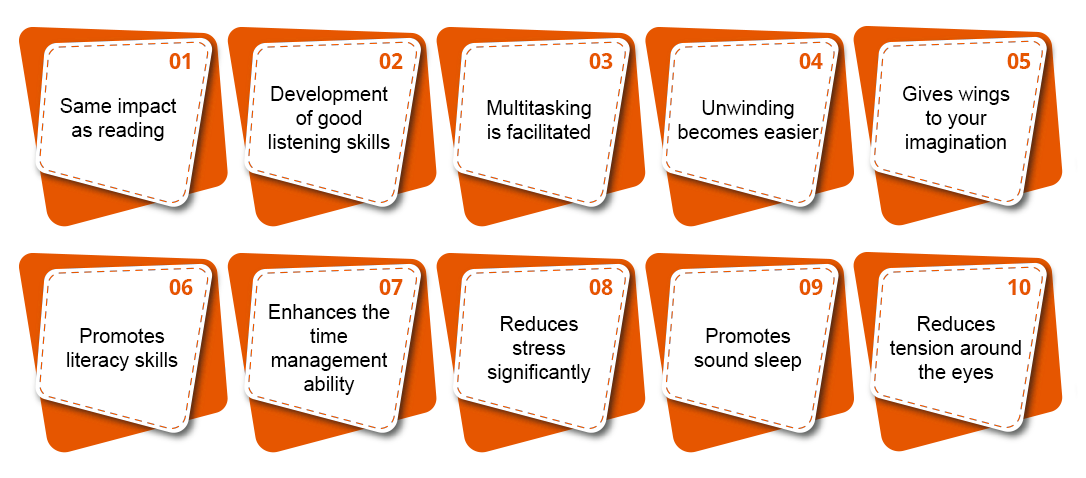 1. Same impact as reading
Listening to audiobooks is identical to reading an eBook. Both listening and reading have the same impact and are equally effective. This fact has been proved by researchers at Gallant Lab, UC Berkeley published in Discover. Regardless of the mode, both reading and listening have the same impact.
2. Development of good listening skills
Audiobooks help develop effective listening skills, especially the ones that are meant for kids. A majority of publishers avail e-Publishing services for educational sector to make studies more engaging and fun!
3. Multitasking is facilitated
When you are reading, you cannot really do any other work you intend to. But with audiobooks to the rescue, you can easily multitask. While listening to an audiobook, you do a number of things, be it knitting, taking a stroll, driving, cooking, gardening, and whatnot!
4. Unwinding becomes easier
Audiobooks are a boon for the ones looking to relax and unwind before bedtime. Take the time off for yourself and dive deep into your comfort zone while you listen to audiobooks.
5. Gives wings to your imagination
Imagination is a powerful tool that helps bring the characters and situations alive in front of our eyes and relieve us of our worries. Audiobooks provide an immersive reading experience by doing just that! Infact more and more publishing agencies and authors are opting for higher education eBook conversion services to create captivating content that generates interest and desire among the students.
6. Promotes literacy skills
Children can also benefit by honing their literacy skills covering comprehension, pronunciation, vocabulary, fluency, phonemic awareness, language acquisition, etc. All this greatly contributes to increasing children's reading scores, isn't that amazing!?
7. Enhances the time management ability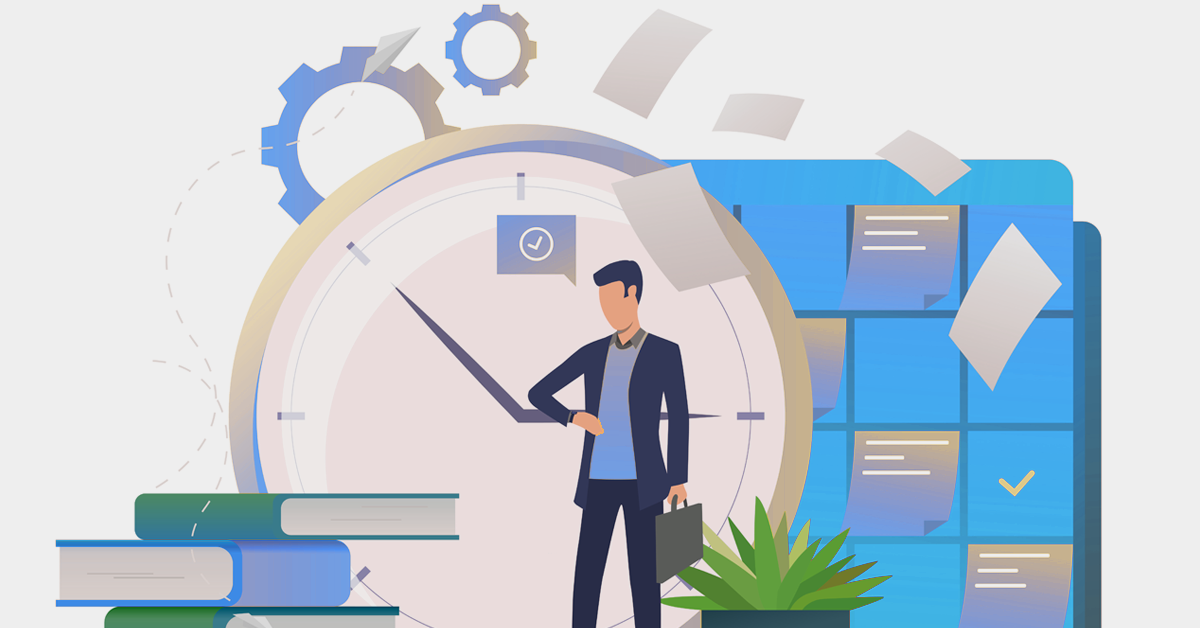 With audiobooks, you can do multiple tasks simultaneously. And so, it is definitely a win-win situation for you to complete household chores, cleaning, and many other jobs with so much ease. You can use the time judiciously to not only finish the routine jobs on time but also take up hobbies and pursue your interests along with them. So, audiobooks are of great help in managing your valuable time and, at the same time, make the work pleasurable too!
8. Reduces stress significantly
Audiobooks can be a stressbuster too! They can help you combat your negative thoughts and emotions together with disruptive feelings, and manage stressful situations more effectively. The audiobooks can lift up moods and have also helped cope up with depression and anxiety to a great extent.
9. Promotes sound sleep
Audiobooks can help regulate your sleeping patterns and promote a good night's sleep! calms the mind and impacts the wake-sleep cycle positively.
10. Reduces tension around the eyes
Your eyes do need rest. Staring at a computer screen or a mobile phone for long periods can lead to headaches, eye strain, blurred vision, discomfort, or sometimes even nearsightedness. Not only is it bad for your eyes, but it is also not good for your brain and body. As opposed to reading, listening to audiobooks can aid in calming the optic nerves, thereby allowing the eyes to relax. Let your eyes rest a bit by bringing audiobooks into your lives.
Leave all your health-related issues and concerns aside with the above-mentioned benefits just like we rendered an interactive learning experience for Science and Mathematics disciplines for students to relax the eyes, cope with stress during the coronavirus pandemic, and manage time more effectively.
So, what does it take to be healthy during these unprecedented times? Well, you just need to press play the audiobook to stay healthy, that's it!
Top questions answered!
Q
1. Does SunTec Digital provide read-aloud eBook creation and conversion services globally?
A
Yes, definitely. We have been serving our global clients for over 15 years now, rendering affordable eBook creation services along with effective conversions. Our digital specialists can help you transform your digital content with interactive and engaging digital content for the potential audience.
Q
2. What is the cost of hiring a digital publishing expert from SunTec Digital?
A
The cost of hiring an expert for our full-service read aloud ebook conversion or creation services primarily depends on your requirements. You can choose a suitable plan from the different pricing models available with us and you are good to go!
Q
3. Can you elaborate on the average turnaround time?
A
It solely depends on your specific business requirements.
Q
4. What does SunTec Digital need to add audio to my eBooks?
A
In order to add audio to your eBooks, you will require a comprehensive list of tasks to be done at our end along with the time frame with which it needs to be accomplished. Also, don't forget to pick a befitting pricing plan based on your budget.
Turn your e-Books into Audio Books with SunTec Digital
SunTec Digital is a reliable digital publishing and distribution company rendering interactive digital content solutions to clients spanning across the globe. We can help turn your eBooks into Audiobooks in the most cost-effective and hassle-free way. You can easily create an interactive textbook for your students with us. All you need to do is get in touch with one of our digital experts at info@suntecdigital.com to take things forward.
To create ebooks with musical effects or amazing sound effects, connect with us right away!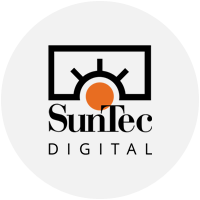 Brought to you by the Marketing and Communications Team at SunTec Digital. We publish tips & tricks, informed opinions, and interesting stories about Digital publishing solutions & industry trends. Join our mailing list to stay ahead of the curve.