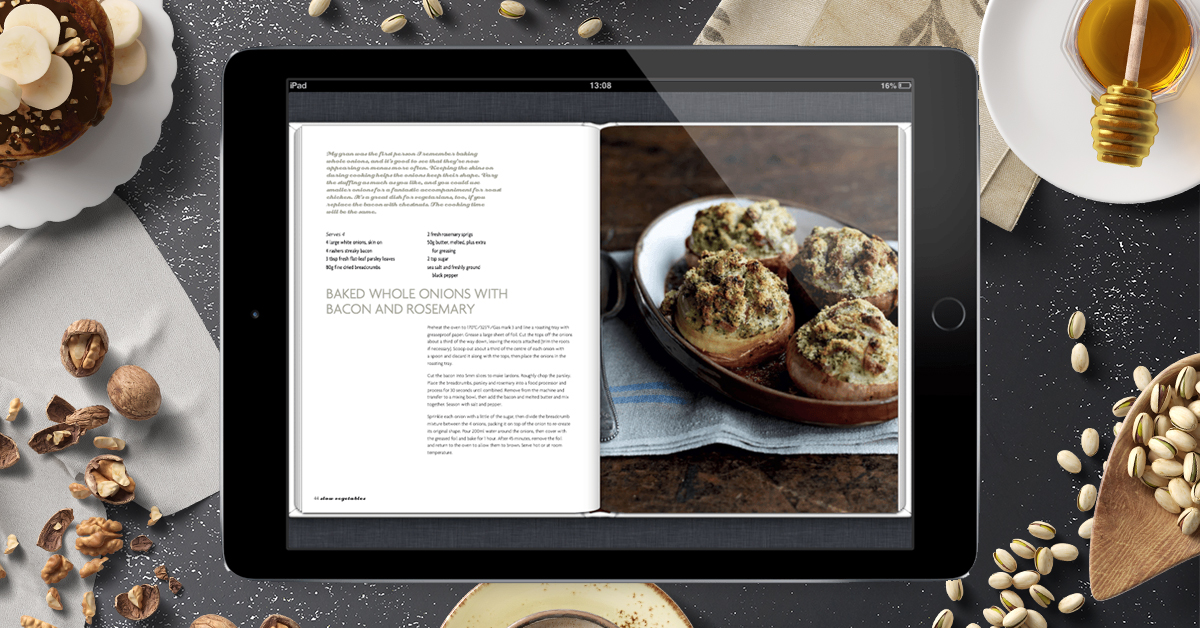 Cooking is one of the world's favorite hobbies and one of the most satisfying activities as well. A professional food connoisseur can touch the lives of numerous people. But won't it be great if such passionate people can share their knowledge for the benefit of the world? Many cooks and chefs have become brands just by sharing their secret recipes with the world, and that is exactly what you need to do as well.
As a passionate foodmaker, you can now publish your cookbooks digitally with Kindle Publishing (KDP). A good cook can always prepare an eBook for KDP, Bakespace, MyLab, and other eBook distribution platforms that publish cookbooks for professionals. Works and recipes of food experts such as Harold McGee, Wayne Gisslen, and Sarah Labensky are already available online and you can make your recipes available too.
The best thing about publishing digital cookbooks is that you can reach a variety of audiences and become a brand in the culinary landscape. If you have a penchant for cooking, the process isn't really that difficult. All you need to do is a bit of research, prepare the content and digitize your eBook. Before looking at the process in detail, let us understand the importance of digital cookbooks.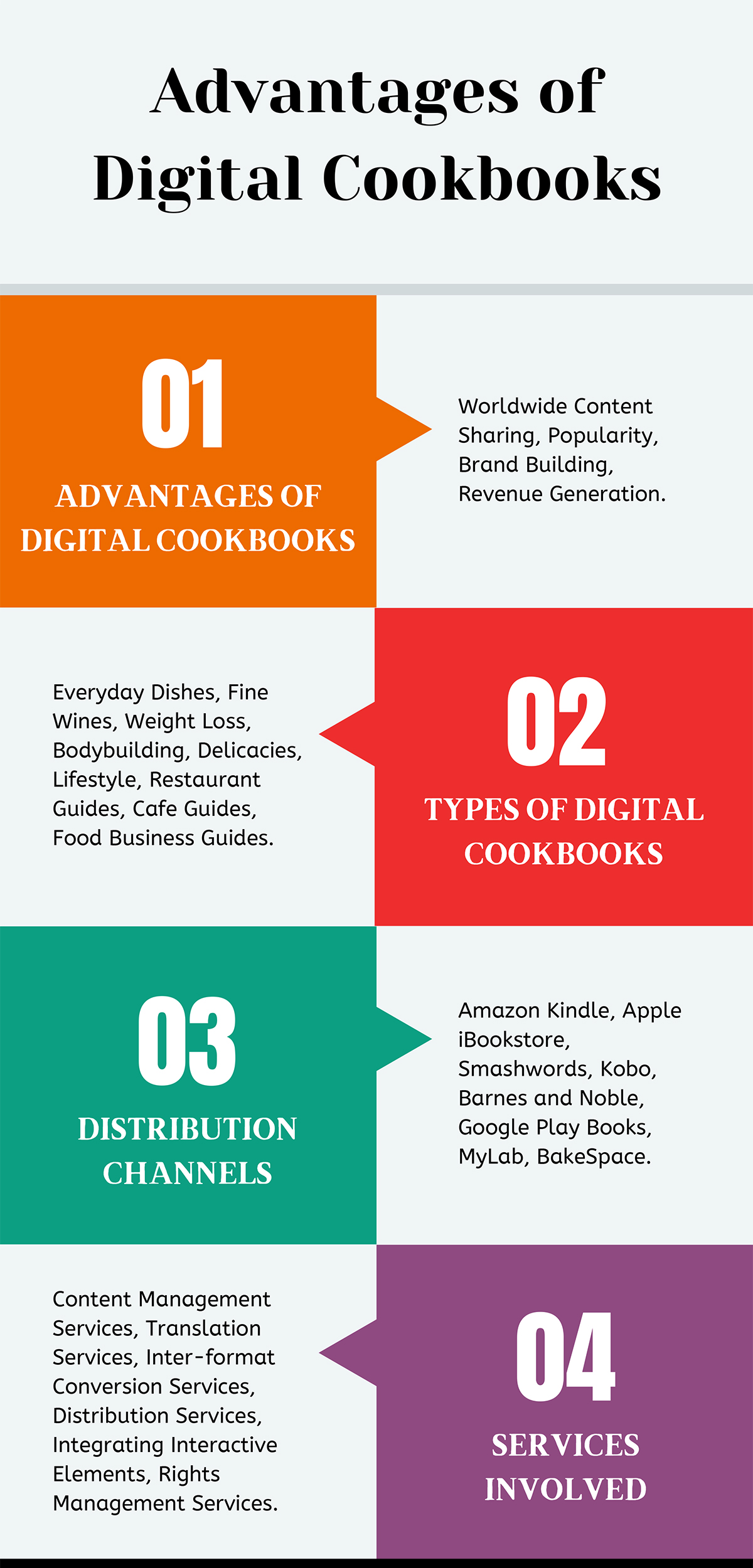 Importance of digital cookbooks
Digital cookbooks open you to a world of readers as well as prospective business clients in the long run. However, it is important not to set very high targets while starting your cookbook project. It is important to have a look at the significance of digital cookbooks and how you can go about the whole process.
Importance of digital cookbooks:
Any work that is digitally published, well-formatted, and edited is certainly more credible than a piece of work that is printed and available locally.
You can reach global audiences by making your work available at affordable prices.
Publishing regularly and marketing your work well can help you establish yourself as an authority among cookbook writers.
Well-established writers can be hired for sponsorships, seminars, webinars, events, and long-term contracts with food-based organizations.
Publishing cookbooks on niche topics, such as vegan cooking, diet-based cooking, age-based cooking, etc are great to launch your career. You can then look at publishing more holistic cookbooks that are all-encompassing and include more variety.
How your cooking knowledge can be utilized
Before you plan to digitize your eBooks, it is important to know how your knowledge can be utilized. There are several ways to create eBooks, but what matters the most is the content. Right from cooking simple dishes to setting up a full-fledged multinational business, quality information is always welcome. Here are several themes you can base your cookbooks around:
Making simple, everyday dishes: Bachelors and young couples will benefit a lot from cookbooks that specifically focus on everyday dishes and hacks for creating quick meals with limited resources.
Making exquisite dishes: People are always looking for ways to cook international cuisines, baking recipes, and delicacies to brighten things up. If your cookbook serves this purpose, it is bound to be a bestseller.
Diet-based cooking: With a lot of emphasis on diet, focusing on such content could help you target the health-focused segment.
Setting up a business: Whether you focus on small food stalls or multinational food chains, guiding readers with a step-by-step approach can help the popularity of your books a lot.
You can even incorporate interactive elements, such as videos, quizzes, questionnaires, puzzles, sounds, 3D animation, etc to your eBooks to help the reader's learning process. You can opt for Interactive eBook creation services to make your job easier.
Before publishing your first digital cookbook, it is important to research the stuff that is already out there. Make sure you look at all the tips and tricks in this blog before publishing your digital cookbook.
Research other digital cookbooks
Whether you plan to prepare an ebook for KDP or any other platform, research is essential. Identify your expertise and research authors that have written similar stuff. You can research eBooks on several platforms, including:
Google Search
Kindle
Google Playstore
Google Books
iBook
Barnes and Noble Nook Store
Scribd
Bookbub
Kobo
While there are several other platforms to research digital cookbooks, what is most important is the content. You can also search for great cooking content on video platforms such as YouTube or Vimeo. Make sure your ingredients are easily available and you are communicating your recipes in a highly comprehensible manner.
Publishing platforms for digital cookbooks
There are several eBook distribution platforms and eBook formats you might want to have a look at before publishing your digital cookbook. While some of them are complex and advanced, others are easier for first-time users. Go through the individual websites of each platform, and opt for the one which is best for you.
Here are some of the eBook distribution platforms and formats that might serve your purpose:
Amazon Kindle: Amazon Kindle is one of the most renowned eBook platforms for all kinds of books. While all new publishers want to get on Kindle, works published over hundreds of years ago are also available on Amazon Kindle now. Cookbooks are one of the most successful categories on Kindle, and many food lovers have attached Kindle holders to their kitchens already.
Apple iBookstore: Available in over 30 languages, Apple has its own bookstore called the iBookstore. The best thing about publishing your cookbook to the iBookstore is that Apple users can access them from a variety of devices – iPhone, iPad, Mac, etc.
Kobo: Owned by one of the world's leading eCommerce marketplaces Rakuten, Kobo is yet another hit eBook platform with over six million eBooks. This Canadian platform is also good for cookbooks, as its books are globally promoted and read by users worldwide.
Barnes and Noble: Barnes and Noble is an American publishing platform, with bestselling cookbooks written and compiled by celebrities, world-renowned chefs, and food chain owners.
Google Play Books: Owned by Google, this platform is easily available and accessible to millions of readers worldwide. Since Google PlayBook results rank high in Google search, adding your cookbook(s) to Google Play Books should be on the top of your priority list.
Smashwords: Yet another American self-publishing eBook distribution platform, Smashwords claims to have a catalog of over 400,000 eBooks from over 100,000 different publishers and authors.
PDF: Publishing your eBook in PDF format is quite easy. However, design aspects are important. Once your PDF content – including text and images – is ready, get it converted into PDF format. You can outsource your PDF requirements as well, and hire designers that have expertise in cooking and food-based graphics and literature.
Formatting The Text and Images
Text and image formatting is one the most important aspects of eBook conversion. Whenever you plan to prepare an eBook for KDP or other such platforms, make sure that it is error-free and in line with the publishing standards.
Proofread the text, divide it into chapters, prepare a table of contents and an index.
Format your text using italics, bold, different font sizes and symbols.
Translate your text into the language it is going to find the maximum amount of readership in. Opt for multilingual eBook conversion services if you want to publish in multiple languages.
Use images that suit your content the best. While first-hand images are the best, you can purchase and license stock images available for eBook distribution.
A good cover can help you attract many of your desired readers. Make sure your cover is properly designed, with attractive and to-the-point graphics (images/illustrations/sketches). The text included on the cover should also be engaging, compelling readers to read your cookbook. You can opt for eBook Cover Design Services to perfect your cover.
You can also convert your eBooks from PDF formats such as XML and HTML, to make them universally compatible and easily discoverable, and accessible across digital platforms and search engines respectively.
Besides ensuring your textual or photographic content doesn't get marked for plagiarism, you also want to ensure your own content is protected. You can opt for digital rights management solutions to ensure people don't exploit your content, and you make the most of it.
Submitting the Content
eBook conversion is not as complicated as it might sound, but you need to ensure everything is in place to avoid the chances of rejection. You can publish your content directly or outsource your requirements to a company that offers interactive eBook creation services.
Here are the various steps you need to follow to publish your cookbook online:
Directly publish to Kindle using Kindle Direct Publishing (KDP). This can be done by downloading a program called Kindle Create and submitting your content there. This program allows complex formatting and any number of images can be added.
For end-to-end conversion from one format to the other, avail eBook conversion services. Print books, XML documents, Quark files, manuscripts, and word files can be converted to various formats such as HTML5, PDF, Kindle, ePub3, etc.
Opt for eBook distribution services to distribute your books across various publishers such as Kindle, Nook, Google Play Books, Kobo, iBooks, Barnes, and Noble, etc.
Publish your digital eBook in PDF format, and make it available for download. You can make the download link available on your own blog/YouTube channel or ask other bloggers/vloggers to feature your digital cookbook. You can charge a fee for the download, or ask users to enter their email ids, to add to your mailing lists.
Promote your cookbook's website landing page with the help of Google ads, to promote your digital book across Google's partner sites.
Once you are able to identify the maximum traffic source, translate your book in the first language of that location. Opt for multilingual eBook conversion services.
Conclusion
Your digital cookbook is no more a distant dream, and all the resources you need to publish it are at your disposal. Start working on your content today, and you see people talking about your digital cookbook in no time. Just like this eBook we developed in 16 days, keeping in mind all the client's requirements, the complex layout, and deadlines.
SunTec Digital helps with all kinds of eBook conversion services, including Fixed Layout eBook Design & Conversion Services, XML conversion services, distribution services, and interactive eBook creation services. You can contact SunTec Digital anytime for expert, cost-effective services by emailing your requirements to info@suntecdigital.com.
FAQs:
Q
1. Why should I publish a digital cookbook?
A
A digital cookbook can help millions of readers around the world access your recipes. All your cooking ideas – right from procuring ingredients to marketing your food chain – can be published in a structured manner. Bakers, dieticians, farmers, celebrities, restaurant, and cafe owners, as well as businessmen, have published bestselling cookbooks in the past. Digital cookbooks can help you create your own brand and earn revenue as well.
Q
2. What do I need to prepare before publishing my digital cookbook?
A
The most important thing is the content of your digital cookbook. Even if you think you are an expert in some food-related area, do comprehensive research. Find out the stuff people have already written about, and what you can add to it to make it more valuable. Once your content is ready, compile it and divide it into topics and chapters. To convert and distribute your eBook in a systematic way, you can always outsource your requirements to an organization expertising in eBooks.
Q
3. What are the various platforms and formats I can publish my cookbook in?
A
You can publish your eBook in various formats, including PDF. PDF eBooks are easily shareable and accessible for audiences. However, there are many eBook platforms readers prefer a lot these days. Some of them are Amazon Kindle, Apple iBookstore, Smashwords, Kobo, Barnes and Noble, Google Play Books, and several others. Your digital cookbook can be published on any platform, provided you follow the respective guidelines and come up with good content.