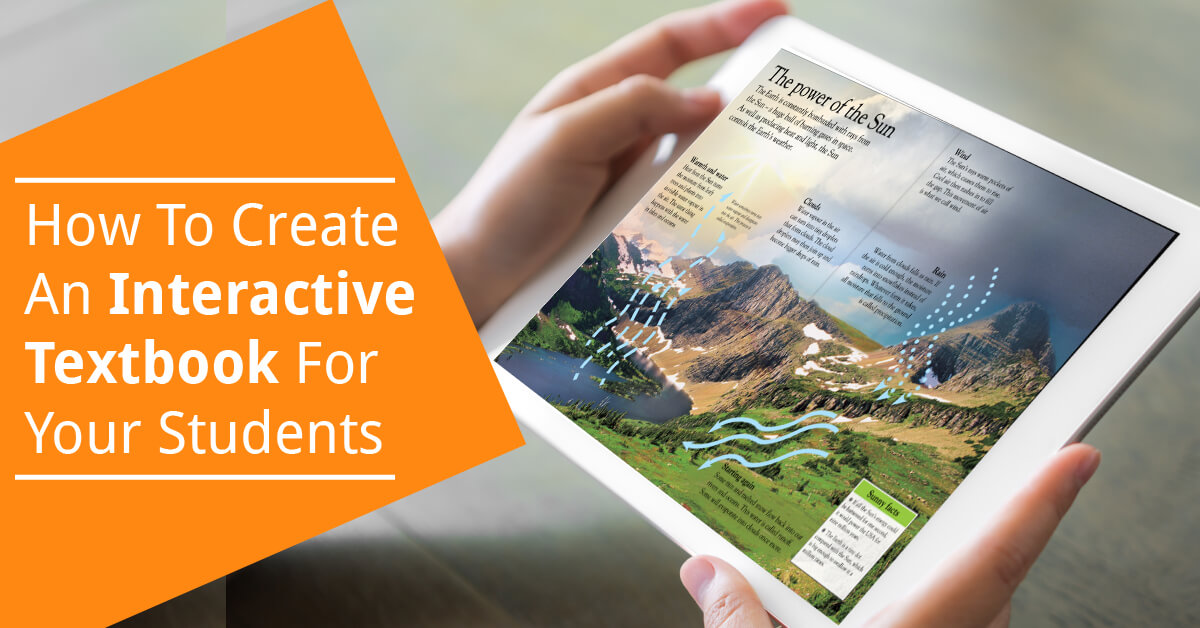 It is time we bid adieu to the traditional learning approach and switch to digital textbooks. During the COVID pandemic, the response to digital books or eBooks has been quite overwhelming due to a majority of people staying at home. In fact, the learning went up a notch with the emergence of interactive textbooks. As opposed to the regular digital textbooks, interactive textbooks come into the picture to induce diversified as well as a captivating learning experience for the students. And since students are more inclined towards movement and noise, visual learning is an effective way to hook them on, helping them retain more information than before.
Interactive Textbook Explained
An interactive textbook is basically an electronic version of a textbook that involves many key interactivity elements, viz. videos, animations, 3D models, pop-ups, widgets, etc. It has become rather a necessity to go digital and provide online learning material to the students that are visually-enticing. The visual aids will not only capture your students' attention and engage them, but also make the whole learning experience fun and exciting.
Various Formats That Support Interactivity
There are a plethora of eBook formats used in order to support the various e-readers available. So, whether students intend to read the learning material on a laptop, tablet or a phone, the eBook formats will support most of them. But, one mustn't forget that not all formats support the interactivity feature. So, here are certain formats you must be aware of:
iBooks
These are basically the digital books that are meant for only macOS and iOS devices. In simple terms, iBooks are EPUB files that can specifically be run on an iPad, MacBook or an iPhone. They involve a great deal of interactivity but are only limited to Apple devices.
EPUB
This eBook format is the most popular and used worldwide due to its innumerable interactive elements. It is possible to optimize the file size as well and can work on all kinds of eBook readers on any device.
PDF
This format is rather static in nature, but you can still add media to it. However, interactive PDF eBooks do not fully function on every reader, and can rather be large in size.
Apps
eBook apps are not so common but are gradually gaining popularity. Such applications consist of both an eBook reader and an eBook. These can be downloaded as web apps, mobile apps or desktop apps as per choice/compatibility.
Type Of Interactive Elements To Take Things To The Next Level
Want to increase the interactivity element in your textbooks and make it more enticing? Well, you can incorporate the following things to enhance the learning process:
Add Optimized Videos Or Simply Embed Them From Links Without Compromising On The Quality
Incorporate audio files into your eBook, especially for language textbooks, reading textbooks for the first-grade class – Simply embed or optimize as per your choice
Ask questions to ensure that the students understand well – You can add the true or false type, and multiple-choice questions
Include interactive images and popups such as zooming in and out, adding relevant labels, adding image explanations, etc.
Using animated videos and GIFs are a fun addition and a great interactive pick too!
Use add-ons such as widgets, including interactive graphs, charts, teaching games like word searches, crosswords, and so on
Showcasing 3D image models for better comprehension, instead of a simple photo
How To Create An Interactive Textbook To Engage Your Students
Collate All Your Content At One Place
Before anything, you must gather all the content you need – learning material, visual aids, questions/tests, etc. To ensure a smooth process, just ensure that everything you need is handy, and create a checklist if need be. Also, it is difficult for a non-writer to carry out the writing process for the textbook. So, make sure you put everything in a folder so that it becomes easier for you to find.
Simply SIgn Up And Download!
The next thing is using an interactive textbook creation software. Do some research and select the one that gives you more room for interactivity. After picking a suitable one, all you need to do is 'Sign Up'! Further, make sure it is compatible with your operating system, and then finally download it.
Pick A Layout Of Your Choice
Now you need to open the software and choose the layout of your interactive textbook. The layouts include fixed and reflowable. Since you intend to create an interactive textbook, you must choose a reflowable layout so that all the necessary interactive elements can be added.
Add Content And Divide It Into Chapters
This is the major part of the process. In this, you are supposed to add all the content collated previously into the eBook and consequently bifurcate it systematically into chapters. If the format of the content is in PDF or Word, then you can simply import it and make the changes. If you aren't sure of how to go about it, then opting for educational ebook development services is a viable option.
Choose Various Interactive Elements, And Simply Add Them!
Now comes the most interesting part – accentuating the eBook with all the necessary interactive elements. Make it as enticing as possible by using 3D image models, videos and whatnot, but just don't overdo it.
Finally, Export Your eBook In The Desired Format
The last and final step is exporting your textbook. Now that everything is set, all that needs to be done is exporting the interactive textbook in your desired format. Furthermore, if you want you can also host your interactive textbook online, instead of exporting it as a file. So, just explore the various export options and pick the most befitting one for yourself.
Conclusion
Given the efficacy and engagement patterns of interactive textbooks, it surely has a bright future. The education sector is evolving by the day and the world is adopting a new way of learning. Interactive textbooks offer an enhanced learning experience and garner the attention of the students like never before.
Intend to create an interactive textbook but still have no idea how? Hire an interactive textbook development expert from SunTec Digital and make your students' learning experience all the more fun and interesting. We offer reliable interactive eBook development services to our clients spanning across the globe and ensure an enhanced learning experience for their students.