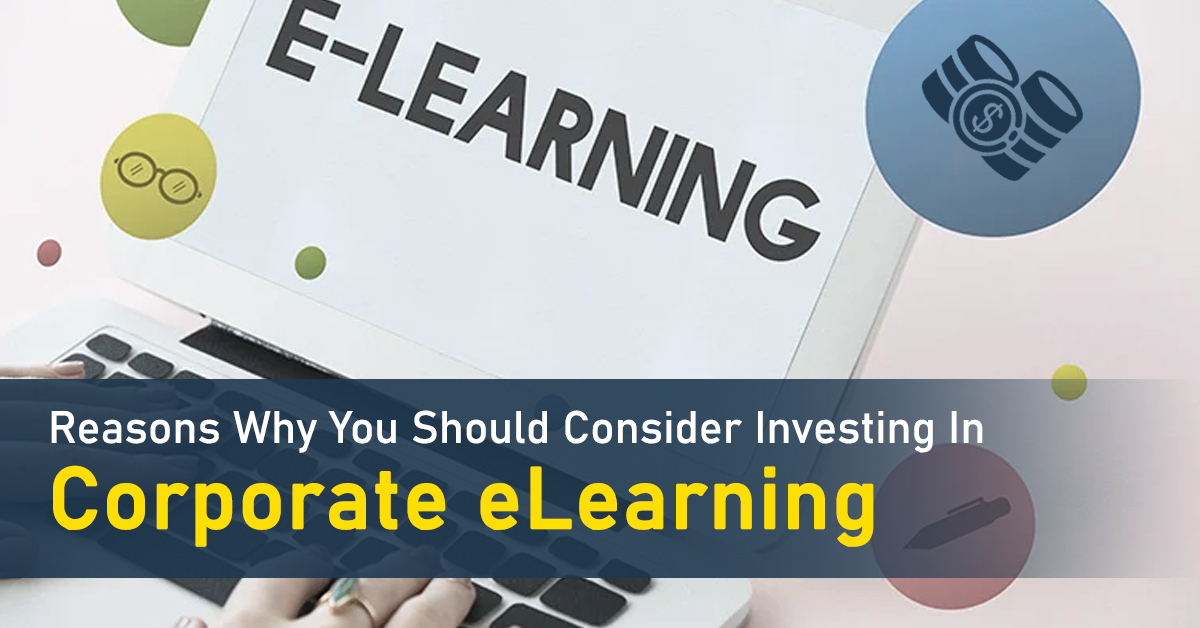 Companies, big or small, are now exploring the benefits of conducting their corporate training online. However, the major issue most of them face is the cost, preventing them to move ahead and invest.
So, is it really worth doing an investment in online corporate training? Or, would the benefits be rewarding enough to spend from your HR budget? The company's HR managers may still be skeptical about whether to opt for a corporate eLearning strategy or not, and whether it will help increase the bottom line.
Here are some of the most convincing reasons why investing in corporate eLearning can actually work in your favor:
1. Opportunity To Access Important Information
eLearning facilitates the employees to access the crucial information such as reference materials whenever and wherever they require. For example, if an employee intends to take a look at the various steps involved in the customer service module, he/she can easily do that by logging in to LMS (Learning Management System). This not only keeps the employees well-informed and updated with the company procedures, but also helps improve the business practices. The employees can refresh their memory and gain knowledge at any point of time.
Online learning offers an opportunity to access relevant information when they need it the most.
2. Improved knowledge retention
With well-framed eLearning solutions, employees get to learn and grasp things in a more interactive and captivating manner. And so, this leads to gaining better knowledge and retaining rich skill sets. It becomes easier for employees to effectively digest the information with reality-based scenarios, game plays as well as assessment plans, and helps them apply the information learned when they ultimately venture into a working environment.
3. A Platform To Learn At Their Own Pace
The employees have authorized access to asynchronous online training. So, they can gain the knowledge and learn in their own space. They can take their own sweet time to comprehend. Infact, they do not need to rush through the training material presented to them in a corporate setup. Even the co-workers have distinct cognizant levels, and thus will have a different pace. The employees are given the chance to gain knowledge extensively before finally moving onto another online training course.
4. Easy, Swift & Convenient Training Updates
When it comes to online corporate training, updates are truly simple. For instance, if you intend to update your company's policies and have to inform your staff about it, then you don't have to rewrite the printed reference guides or manuals. You can simply opt for eBook conversion services from a reliable offshore partner. All you need to do is convey to them, and make it compulsory for your staff members to have a look at it by logging in to get an insight of the new procedures and protocols. This will also enable your staff to stay up-to-date with the newly launched policies (like the ones mandated by the government), as well as keep them ahead of their competition. This method is specifically helpful in cases of a new product launch or service update.
5. Authorized Access To Relevant Information Sources
Corporate eLearning is beneficial for your employees as it gives them the opportunity to access information sources very easily. You can supply your staff with all the relevant links that contain videos, webinars and articles in order to enhance their knowledge base and refine their skill sets. If you find it difficult to do that, you can go for eBook distribution services too!
6. Enhance Employee Productivity & Efficiency
If the productivity and efficiency of your employees gets enhanced, then why not invest in corporate eLearning? Well, it is totally worth investing. If your employees are trained better and are efficient enough, that would mean that they have acquired insightful knowledge from the training. And, this will consequently help you in boosting your business reputation and bottom line, of course!
7. Decrease In Employee Turnover Rates
The employees who will be loyal to the company would be the ones who are happy, yet well-informed. When you provide round-the-clock online training to them and render self-paced training modules, then in a way you are giving them the chance to further their professional goals and always be eager to improve themselves on-the-job. With such kind of learning, they get to pinpoint the various areas that they might need improvement, and discover their core strengths. This way, they strive to become better employees and even better, well-informed advocates for your company.
8. Rapid deployment of content
Online training can be beneficial for your employees and can be delivered very effectively. It is also a quick and convenient way to induce relevant knowledge. The employees get to acquire new skill sets and information quickly. Infact, instead of waiting for printed materials to get developed and distributed, it is now possible for companies to create online learning materials and share them across various departments or employees (whoever it may concern). What you can do is simply build and upload the training material and give the concerned employees access to it as and when desired. For instance, if you think that your sales staff requires some kind of additional training based on the recent analysis, then you can use the web conferencing feature and build and deploy a webinar in a rapid manner and focus on the core skill sets that need cultivation.
Investing in corporate eLearning is a good idea, The above points illustrate the various reasons why you should.
Conclusion
SunTec Digital is a notable offshore service provider offering affordable eBook conversion and distribution services to clients spanning across the globe. Get in touch with us at info@suntecdigital.com to know more about our value-driven services.