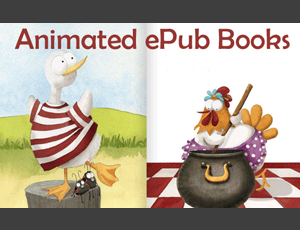 As the popularity and readership of eBooks is increasing with each passing day, ePub has taken the publishing arena by storm. It is an open and free eBook standard that allows readers to effortlessly operate between hardware and software to access digital books and read them on several eReaders including PC, laptop, iPad, iPhone, Mac, Sony Reader, smartphones, Nook and others. These days, people are outsourcing ePub conversion to experts who have proficient knowledge and experience in converting a paper-based book or an eBook of another format into ePub format.
Understanding that images, graphics and animations make learning easy and interesting, publishers and authors are opting for animated ePub books to give the best reading experience to the readers. For this, the publishers avail ePub conversion services from professional outsourcing companies. The conversion specialists are adept at converting any book or document from Quark, Word, PDF, InDesign and other input filed to ePub format. Some of the key benefits of ePub are listed below:
ePub is compatible with several reading devices.
It is a highly flexible format.
It is cost-effective for publishers as well as writers.
Books can be converted in ePub format easily and conveniently.
Reliable and reputed companies have a dedicated team of highly skilled and experienced professionals who are adept at converting animated eBooks by experts into ePub format. They use the latest conversion tools and software to provide up-to-the-mark services at cost effective prices within the shortest span of time. The companies provide a flexible cover page which fits into any size of eBook device screen. They also assist in re-pagination of the entire book according to the content and chapters.
Some of the notable benefits of availing customized services from companies creating professional animated ePub books are listed below:
Tremendous saving on time and company's cost.
The reputed outsourcing companies follow standards set by the Internation Digital Publishing Forum to provide the best quality services.
The experts handle maintain 100% data security and confidentiality.
A professional team works on the project, which is supervised by a dedicated and able Project Manager.
The outsourcing companies offer a free trail sample.
They provide services within a quick turnaround time.
One can avail the services as per business needs and requirements.
The animated ePub books can be accessed on several eReading devices and software applications such as Adobe Digital Editions, Barned and Noble Nook, Sony Reader, Aldiko and others.