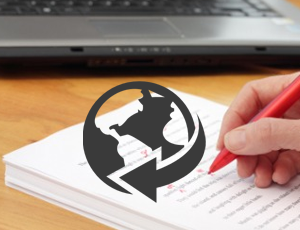 Reading habits have changed the way it used to be a couple of years ago. A fair number of readers today are switching to screens from print. They are notably spending more time on their smart phones, tablets and laptops as compared to books, newspapers and magazines.
However, a considerable number of authors still doubt the efficacy of digital content and do not consider it as a viable option. Let us walk through some common myths associated with the digital content publishing industry and dispel them!
Myth #1
Digital publications are only suitable for linear or text-heavy content like novels and journals.
Busted: Digital content is read on mobiles, ebook readers, tablets etc. Most of these devices are capable of displaying high-resolution multimedia content including images, audio and video content. Considering the resources at hand, ebooks today have progressed beyond simple text-heavy content presentation. eBook creation service providers are creating and publishing multimedia powered digital publications.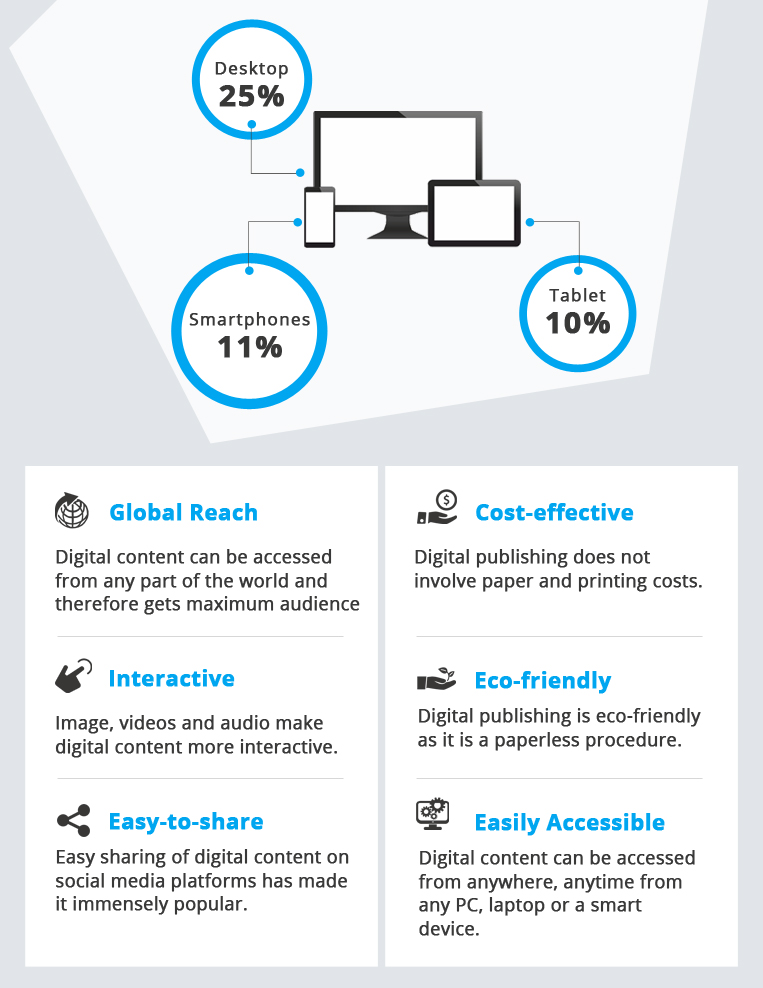 Myth #2
Digital authors have to do everything themselves.
Busted: This has to be one of the biggest myths regarding digital publishing. There are various digital content development solution providers who manage the entire publication life cycle. One needs to simply evaluate one's requirements and accordingly partner with a capable digital publishing provider. Afterwards, the digital publishing experts would create, distribute, track, and monetize the content from a single platform.
Myth #3
Digital Publications are prone to unauthorized duplication.
Busted: With DRM (Digital Rights Management) in place the digital content is now secure than ever. Digital publishers can manage the privileges and restrict copying & printing of their content. DRM protects copyrighted content by encrypting it in a locked state. Majority of the digital publishing platforms offer DRM such as Apple Fairplay DRM(for Apple products) and Amazon DRM (for Amazon products). Further, DRM can –
Limit the number of devices a user can load their ebook into (usually around six)
Help in monitoring who viewed your content, who passed on its authorization to others and who gained its unauthorized access.
Provide time-limit access i.e. once a content with defined life-cycle reaches an expiry date, people will no longer be able to view it.
Myth #4
It is quite costly to convert your content into digital formats.
Busted: Nowadays, digital content publishing platforms generally offer fixed and custom ebook conversion plans. Fixed conversion plans offer pre-defined services at a fixed price. Whereas, in a customized conversion plan, one can choose a specific set of services and pay accordingly.
It is also worth adding that cost of production of a print publication is comparatively higher than its digital counterpart. Besides, a digital copy is eco-friendly too.
Myth #5
Digital Reading provides a solitary reading experience.
Busted: Many people often debate that digital reading provides a disconnected experience which is entirely wrong. Nowadays, almost all types of digital content is embedded with social media platform sharing buttons. Whether you are reading from a smartphone, tablet or an e-reader, it is easy to share your content and begin a discussion or have an opinion.
In a nutshell, it wouldn't be wrong to say that digital content has a standout advantage over printed content. Not to forget that a majority of consumers turn to the Internet to gather information about products, read news or reviews and even to shop. Hence, digital content development will not only provide a cost-effective solution but also an access to a wider audience.
Contact The Experts
Digitization has provided people with multiple channels to publish and distribute their content like never before. Unlike print publications, digital content need not wait for production lag times. Interested in transforming your content into a digital format? Write to us at info@suntecdigital.com to launch your content in to the digital sphere.