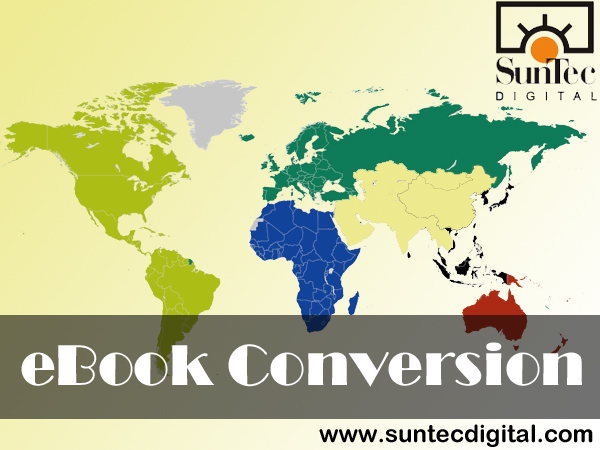 The demand and the need for eBook conversion services are on a gradual rise with more and more book lovers and students opting for affordable and convenient eBooks. These days more people prefer reading books on their digital devices. A digital eBook reader can store several eBooks at the same time, giving the readers more choice to choose from. Besides being convenient to carry, a digital eBook reader also has amazing features and options such as read aloud, auto page flipping option, underlying, highlighting and sharing notes/paragraphs/quotes with friends, music and sound options, etc. There are numerous number of eBook conversion companies in India. What is important is to choose the one which suits you the best.
What are the fundamental points to keep in mind before you avail eBook conversion services from any of the Indian eBook conversion companies?
Experience is highly important when choosing a digital conversion company. The company should have prior experience of converting paper backs/ hard covers into eBooks as well as converting books from one format into another format.  An experienced service provider should be able to convert your eBooks and paperbacks in any format such as Adobe InDesign, MOBI, eReader, AZW, PRC, ePub, Amazon kindle, HTML, Adobe Digital Editions, Mobipocket, PDF, Quark, Microsoft Reader, Palm Digital Media, Amazon Whispernet, Sony Reader, and Apple iBooks Author.
The next important thing is to check and be sure of their quality. Badly converted eBooks are a big turn off for readers.  The book should be converted accurately and should be pleasing to the reader's eyes.
Another factor to keep in mind is the infrastructure and resources. Without the appropriate resources the service providers will not be able to give you the best services and return the work within the committed deadlines.
Time plays a crucial role in businesses. In business, time is equivalent to money. Thus, it is important that the company you choose should value time and should convert the files/books/manuscripts within quick turnaround time.
It is also important to make sure of the company's security policies. Your eBooks/manuscripts and any other documents should not be shared with anyone outside the organization during and even after the project is over.
By opting for eBook conversion services India you can save your cost by 40 to 60% and also get your work done in quick turnaround time. It is important to judge the company's capabilities and promises by giving them a trial job or reviewing their previous work before giving them a go ahead with you work.