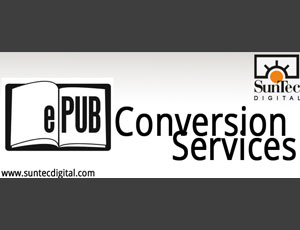 Growing importance of eBooks
In the era of digitalization, people prefer reading and sharing books, documents, notes and researches digitally. The use of paper is going down gradually. Today eBooks are preferred by students as well as book lovers. They are usually cheaper than their printed counterparts and thousands of them can be stored together in one place. Another important advantage of eBooks is that you can easily search an eBook, download it and start reading it even on the go. More and more authors, publishers and institutions are opting for eBooks and eBook conversion services to reach out to a larger global audience. eBooks give them a cost effective and simple method to reach an extensive readership.
The journey from MS to ePub
It is a fact that MS word is still one of the most widely used platforms used to write and share information. Another fact being that ePub is a globally accepted standard format used for high quality digital publishing. In the last few decades, it has become the industry standard to convert documents/paper backs into digital documents/eBooks, to give the readers an error free and high quality reading experience. This has led to an increase in demand for MS word to ePub conversion services.
ePub is the only format that is compatible with almost all eBook readers available in the market. ePub conversion services are highly useful for authors and publishers who want to create exciting eBooks for popular eReaders such as Kobo, Nook, iPad, and Kindle. It is rich in features as well as functionalities, which enhance the user's digital reading experience significantly. By converting your files/documents/reports/books from MS word to ePub you can effortlessly and rapidly upload your eBooks on popular eReader stores. It will also ensure that your books are earning more revenue by reaching more audiences.
How can a reputed and reliable digital conversion service provider help you?
Eminent service providers can convert source documents from any format into ePub format. These companies have a team of experts consisting of conversion specialists, formatting experts, and project managers to make sure that the end product is accurate and of high quality. They have years of experience and expertise to handle even complex conversion with ease and proficiency. Their experts can easily convert your MS word documents into ePub files without altering the authenticity of the original. Before the conversion process they will also check your files/documents thoroughly to eliminate any typing, spelling, formatting or grammatical errors. MS word to ePub conversion services are a complex and time consuming process which are best outsourced to experts to get excellent quality and perfectly converted eBooks.