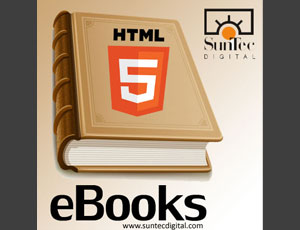 Nowadays people are constantly on the move and the world is moving towards paper-less offices and digital books. With the coming of new technology, eBooks and digital eBook readers are evolving very rapidly. Developers, programmers and conversion specialists are also using different and innovative software, tools, formats, styles and several other elements to create engaging and interactive eBooks to enhance the reading experience of the readers.
One of the most important advantages of hiring an eminent digital conversion company is that by using the power of HTML5 and CSS3, their specialists can create interactive eBooks with HTML5 CSS3. A company creating HTML5 eBooks can create books with embedded audio and video files along with images and text to increase the interactivity of eBooks. Using HTML5 and CSS3 their experts create interactive and animated eBooks which are highly engaging and appealing. High end animations will make your eBooks look interactive and visually compelling and in turn help you earn more revenue.
Features and advantages of creating interactive eBooks with HTML5 CSS3-
Advantage of CSS3 for creating animations, columns and text shadows, etc.
Integration of audio and video components without the use Flash or any other any plugin
Semantic markup
Improved styling and presentation of the content and other elements
Scalable Vector Graphics for higher clarity of images and other illustrations
Creation of animated characters to boost the experience of the reader
HTML5 CSS3 eBooks offer built-in support for MathML and SVG
Additional functionalities such as Geolocation, Canvas, and Finger Painting etc.
Benefits of hiring an eminent digital conversion company for developing HTML5 eBooks-
Writers, publishers and libraries get the benefit of experts, and their intensive knowledge and experience by hiring professional companies creating HTML5 eBooks.
Writers, publishing houses and specially self-published authors get the benefit of animated and interactive eBooks which was formerly possible only with dedicated apps.
Animated HTML5 and CSS3 children's digital books and illustrations do much better than applications that are developed in the Apple iBook Store for the very same purpose.
In comparison to development of applications, companies and businesses can save a significant amount with the development of HTML5 and CSS3 animated and interactive eBooks.
By using the MathML feature experts can re-size equations like text and style them using JavaScript.
By using CSS3 they can enhance the style quotient of your content, text shadows, animations, transitions, and rounded corners.
By using the Geolocation function of HTML5, you can benefit from various options like Geolocation-based games, interactive atlas, road maps, made-to-order travel/restaurant guides, and many more.