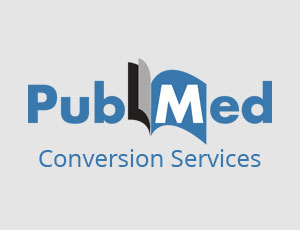 We are in the age of ever changing and ever evolving technology. Digitalization has seeped into every aspect of our life. The compliance to new digital formats has become mandatory to stay ahead in the ever changing digital world. PubMed is a vastly significant online repository, which was developed and is maintained by the National Center of Biotechnology (NCBI), at the U.S. National Library of Medicine (NLM).
PubMed provides a link to full text information of the articles at journal website via Link out and allows the sharing of bio-medical journal citations to NCBI. Association publishers, commercial publishers and institutional repositories can attain enhanced storage and distribution of vital medical information by using PubMed Central Journal Article Tag Suite (JATS).
While creating eBooks, journals and other PubMed documents, reputed and reliable digital conversion service providers offering PubMed conversion services, strictly follow NLM prescribed PubMed XML format. Their experts will handle everything from strategy and designing to the complete conversion process. They will create cost-effective, secure and responsive journals that adapt to business needs.
It is essential to convert the content into XML format before you submit articles and journals to the PubMed central library. Professional conversion experts make the conversion process easier, and the content can be converted into the required format flawlessly. The PubMed experts from eminent service providers will also submit your articles and journals, and get them approved and accepted by the PubMed central library. They can proficiently and accurately convert books, journals, articles, manuscripts and any other type of content to be submitted to the PubMed central library. They accept the content in most electronic formats such as PDF, Word, ePub, SGML, etc. as well as handwritten documents.
The top-most reasons to avail PubMed conversion services from reputed digital conversion outsourcing companies–
Their highly experienced and dedicated conversion specialists ensure that the conversion process is completed accurately.
Their experts ensure that your task is completed within fast turnaround time.
Stringent quality checks are applied throughout the conversion process so that the end result is error free and accurate.
Reputed conversion specialists also ensure that the PubMed central library accepts the converted content to streamline the whole process for the client.
They can carry out the complex process of PubMed DTD/Schema with ease and proficiency.
During the creation process, several quality checks and other manual interventions are applied to weed out errors if any.
They can process scientific formulas and other complex images as per the guidelines set for submission of content.
They offer high quality services at highly cost-effective prices.
Their experts will also link back the content from the library to your site to ensure that you get full benefits.