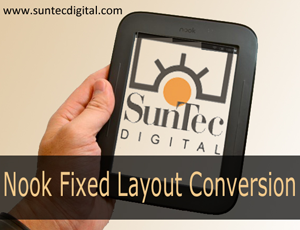 Fixed layout eBooks are often referred to as "image or photo eBooks", or "children's eBooks". They are visually rich layouts that offer much more than standard ePub and KF8 format eBooks for iPhone, iPad, Kindle, Kindle Fire, Nook, Sony Reader, Kobo, and many more digital devices.
An experienced and expert Nook fixed layout developing company can help you by creating fixed layout Nook Books for all major Nook products, namely-
Nook Page Perfect
Nook Kids, with 'Read to Me' and 'Read and Play' features
Nook Comics (equipped with zoom and pan, though devoid of panel view)
Fixed layout eBooks are very similar to PDFs, displaying the design, page geometry, and typography exactly as designed for all devices. These types of eBooks tend to be very dependent on inline graphics or page background images, and at times even as spread-spanning images. Fixed layout eBooks support advanced typographic control, animations, pixel-precise layout, full-page zoom, read along, embedded audio and video files, buttons, narration overlays, and other interactivity. It allows the objects to be placed anywhere on the page, with complete precision and type control that goes far beyond standard, flowable ePub in the form of support for any font (with embedding), accurate line wrapping, hyphenation, tracking (letter spacing), and even multiple columns.
All of these features make fixed layout eBooks ideal for projects such as travel books, game guides, children's books, cook­books, photography books, and any other document or file where page presentation is important to the reader's experience. Such vast varieties of features and advantages have led to an increasing demand for Nook fixed layout conversion services.
Fixed layout eBooks are distinctly created for each device and screen size. Like a fixed PDF, every element on the page is positioned cautiously and will stay exactly where you put it.  However, a fixed layout file is not a series of flat images. It is fully-functional, interactive, searchable and HTML-based. Each eReader has its own fixed layout file requirements barring Apple. Besides having its own format and creation software known as iBooks Author (IBA), it also supports standard ePub and ePub3 fixed layouts. IBA books have more or less the same functionality of an ePub3 fixed layout book, but are more user-friendly and easier to create than their fixed layout counterparts.
To conclude, if you are looking for Nook fixed layout conversion, it is best to hire a professional Nook fixed layout developer, to avail maximum benefits and advantages.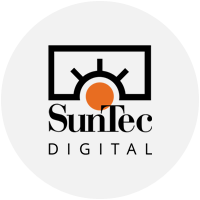 Brought to you by the Marketing and Communications Team at SunTec Digital. We publish tips & tricks, informed opinions, and interesting stories about Digital publishing solutions & industry trends. Join our mailing list to stay ahead of the curve.