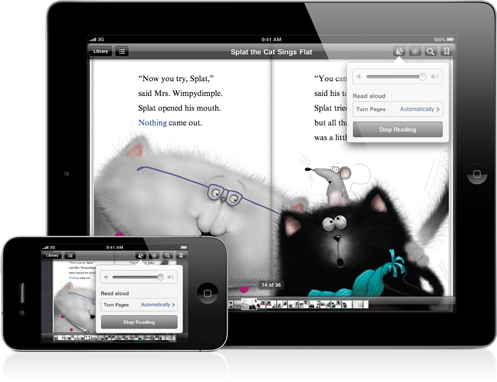 One of the amazing ways to download and read the books is through iBooks app which alters the simple piece of reading into something purely delightful. You can go through your digital library on a beautiful bookshelf, tap on the book which you want to open, spin through the pages with a swipe, and bookmark your favorite passages.
An extension to the fixed Layout ePub format of the books for the iBookstore is Read Aloud Books. They permit publishers to synchronize the text of their Fixed Layout ePub converted book with a narrative audio file. Readers can now listen to the books as they read. The text will get highlighted as the audio file will read the book aloud and turns the pages automatically for the readers. This can be very beneficial for children's books to improve their reading, speech and language learning.
Converting a book into a Read-Aloud Fixed Layout ePub for iBooks, for sure, can turn a book in a spectacular and exciting experience. Unfortunately, creating a Read-Aloud ePub is not for the inexperienced or novices, as it necessitates precise HTML and CSS coding, and involve a much more detailed format, and complicated processes and workflow.
What's new about 'Read Aloud' Fixed Layout Books?
iBooks 1.3 have added some new features in its Fixed Layout ePub Format. Take a look:
It helps your children in enhancing their learning and reading skills with the new read-aloud feature.
The read-aloud feature uses a real speaker to read the books for you. It also highlights the text as it reads along. Parents can modify these settings, e.g., they can set them to turn manually to as per the requirement of their children.
The read aloud feature makes iBooks more responsive, especially to young readers, engaging them with complex, classical books.
These enhanced books now can play audio and video automatically with the book.
This new feature fixes the bugs that make some books to open the same page twice.
SunTec Digital specializes in creating Read Aloud Content in Fixed Layout ePub Format for iBooks , with special focus on Read Aloud Feature User Interface,  Media Overlays Structure, Marking Start and End Times in Audio Files, Embedding and Styling Read Aloud Controls, etc.
If you are a publisher or an author planning to create or convert your books into Read Aloud iBooks, please get in touch, or write to us at info@suntecdigital.com.