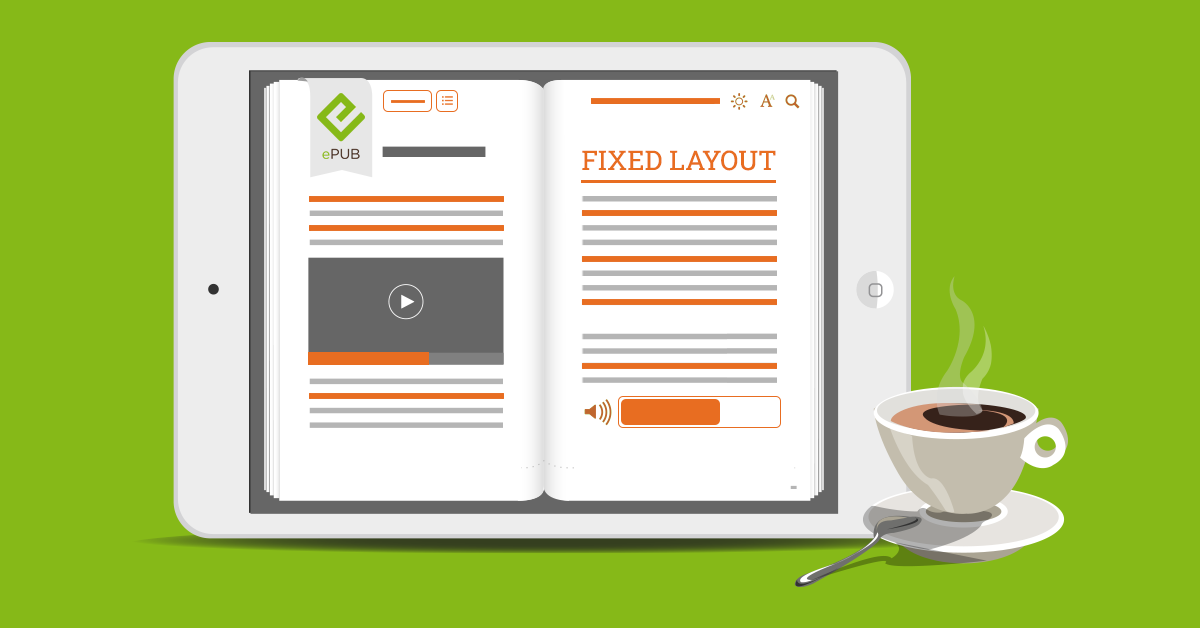 Do you want to make your book writing hobby a profession? Then, you must know the gospel truth of the publishing industry, that eBooks are very popular among writers and publishers. As in today's digital era, a large number of audiences use eBook reader apps to access fictional, non-fictional, and books of any type.
Many debut authors struggle in getting their first few books published. Are you also one of them who is thinking that to become a successful author you need to have strong connections with publishers? Well, no! An eBook with a consistent layout and a nice percentage of readability targeting the right type of audience can make you a well-known author.
Fixed-layout eBook conversions are one of the best ways to convert your book into an engaging and engrossing eBook. Let's learn why you must choose a fixed-layout and how?
Table of contents
Why convert books to ePUB?
The publishing industry not just underwent the change from traditional to digital but it has also evolved. In the history of publishing technology, how human beings absorb information has completely changed. The behavior of the readers has compelled the publishers to change the creation and production of books. But, for better only. Give a quick read to the benefits of creating eBooks.
No need to have physical storage to keep hard books.
The process of delivering books lessens the need of reprinting books physically.
Now, provide an even more comfortable reading experience and get good reviews.
Contribute to sustainability and help save the environment.
Get higher chances to improve yourself through eBook reviews, feedback, and surveys.
So, these were some of the basic benefits of adopting the new publishing method that is digital publishing. But, you are already here to convert your book into a fixed-layout ePUB, ain't you? So, let us take you through all the important information about it.
Steps to create an engaging eBook
No matter if you are a debut author, when your eBook is appealing, easily readable, and has a good plot, there are more chances of high sales. Here are the subsequent steps to follow and make your eBook ready to sell.

Step 1: Write a book that solves problems
When readers buy books, they actually buy solutions to their problems in the form of a book. If your book is solving problems for the readers then it is already a best-selling book. Besides, knowing who you solve the problem for is also a bigger concern. Know who are your potential readers and learn about their needs for your book.
Even if you are trying an autobiography, include moments that inspire people and help them to get unstuck from real-life situations. If your eBook has the ability to solve million people's problems, then your book writing business is on the right track.
Step 2: Design an engaging and comfortable layout for eBook
Now, here you will have to focus on certain components of your eBook. eBook reader app users would not like to waste time in adjusting the elements of the texts such as font style, font size, margins, etc. To provide a comfortable and engaging reading experience to the readers, you should fix the elements as per the requirements. That is why fixed-layout ePUB conversion is used worldwide.
You may approach many eBook production companies to get your PDF converted into a fixed-layout eBook. Handing over this job to the professionals will enhance your eBook and make it ready to sell.
Step 3: Prepare yourself for eBook distribution
Another important and toughest step is to distribute your eBook to potential readers using the right medium. You can either provide your eBook to promising online retailers or sell your eBooks through your website. Make sure you are aware of everything you need to know about eBook distribution before approaching any ePublisher.
To create a compelling eBook it is important to choose the most suitable layout. Fixed layout is not necessarily the best for every debut or successful author, it depends on the type of your content. Let us take you through the advantages and disadvantages of fixed-layout ePUB conversions.
Advantages and Disadvantages of Fixed-layout ePUB conversions
The purpose of fitting your eBook into a specific layout is to deliver an efficient reading flow to the readers. Every eBook layout has its own advantages and disadvantages. Before you make a random decision, go through the below-mentioned points and learn about fixed-layout in detail.
Advantages of fixed-layout ePUB conversions
The capital you invest in converting your PDF into a fixed-layout eBook is very little compared to other ePUB layouts.
The text and the image in your content will appear as it is as you have designed it. Even if the reader zooms in, the texts and image will neither overlap on each other, their position will be static.
Both, the author and the ePUB conversion services providing team have the independence to plan the layout. The plannings work together to deliver one iconic fixed-layout eBook.
The ePUB conversion will be done by a team of experts. So, there are no chances of error in the eBook.
Disadvantages of fixed-layout ePUB conversions
The fonts, the margin, the spacing between words and lines, all will be fixed. So, if the readers zoom in or out of the reading screen, they will have to swipe the screen as well to reach the end and start of the text.
The readers may see a lot of blank space when reading the text at a higher resolution.
So, now you know the advantages and disadvantages of fixed-layout ePUB conversion. Fixed layout ePUB is highly preferred by professional authors and publishers indeed. But, you must choose reflowable or fixed layout ePUB conversion for multiple column books only as per your book type.
How to convert a PDF into a fixed-layout ePUB?
Since converting your eBook into a fixed-layout ePUB can be only done by the professionals it is more likely preferred to hire outside services. eBook production and distribution companies can be very promising in turning your ordinary book into a best-selling one. Let's look into the types of eBook conversion services they provide.
1. PDF to fixed layout ePUB
Fixed layout eBook conversion can be done from a simple PDF file. That readers can access on laptops, PCs, and even eBook reader apps on mobile phones.
2. Word to fixed layout ePUB
Microsoft Word is one of the handiest processors used by authors all across the world, especially debut authors. Experts can convert your MS Word file into a fixed-layout ePUB with ultimate readability.
3. InDesign to fixed layout ePUB
If you are creative like no one and have created content on Adobe or InDesign, there is no problem with converting it into an eBook. From your designed border and font size will be intact and converted into a fixed-layout ePUB.
So what are you waiting for? Whether you are a debut author or an old player looking for the best way to create engaging content, convert your book to fixed layout ePUB.
For your better understanding, let us take you through a case study. It represents how publishers and authors can avail of fixed-layout ePUB conversions services to create engaging content.
CASE STUDY
About the client
The client publishes a diverse range of eBooks that deals with children's literature, science fiction, art books, cookbooks, health and fitness, and more.
Challenge
The client wanted a pixel-perfect digital ebook named Superhero to be converted from printed copies. Converting a hardcopy into a fixed-layout ePUB is very challenging and requires some highly knowledgeable and highly skilled eBook developers.
Solution
Our experts not only developed a highly illustrated ePUB with audio, video, and graphic images but also made it possible at the lowest cost. The fixed layout ePUB consisted of 183 pages of rich-colored illustrations and texts. Well styled and easily readable text fonts were used. The eBook also consists of 264 graphic images that enhance the beauty of the text.
Check out how our professional eBook production team transferred highly visual titles into fixed-layout ePUB.
The fixed layout ePUB conversion will help your book readers to comprehend the content with utmost convenience by adjusting the components of the page.
Conclusion
We hope this guide helped you in understanding how fixed-layout ePUB conversion makes your publishing process easier. With the help of ePUB production and distribution companies, you can reach the maximum audiences. So, don't just give your readers access to your digital books, give them a complete package of exciting book reading experiences. If you have more doubts on how and why fixed-layout ePUB conversion is a must? Leave an email to info@suntecdigital.com and help us to create more informative and useful content for you.
Still in doubt? Clear it with our FAQ section
We have composed the answers to the most commonly asked questions by the authors and publishers in 2021. Go through the FAQ section and clear your all doubts about the fixed layout ePUB conversions.
Q
1. What is the procedure of eBook production done?
A
The eBook production services provider will perform the following steps to deliver an engaging eBook:
Importing your content from PDF, Word, or hardcopy format.
Understanding the requirements of your potential readers.
Classifying the type of your book.
Preparing the best suitable layout for your text.
Transforming the content into the designed and planned layout.
Delivering the final eBook to you to further distribute to the sellers.
Q
2. How to choose the best free eBook reader app?
A
To choose the best suitable eBook reader app, you will have to consider the following things:
Analyse your type of audience to know what reading applications they can access.
Whichever reading app you choose should be accessible on iOS and Android devices.
It must have enough screen size, good resolution, and a lot of memory so that readers can download even your heaviest files.
It should have the capability to play autotunes, videos, and GIFs.
Make sure it has a wider reach of readers all across the world.
Q
3. Is it safe to distribute eBooks online?
A
You can publish and sell your books online without any insecurity of losing the copyright. eBook production and distribution companies provide DRM-protected ePUB that can be accessed by the owner and reader who buys it.
Q
4. What are the differences between reflowable and fixed layouts?
A
The major difference between the two eBook layouts is reflowable eBook content changes its placement as per the size of the screen. Whereas, the fixed eBook content remains as it is irrespective of the screen size.
Q
5. Reflowable or fixed layout ePUB conversion – Which one is better?
A
It depends on your content. If your content is text-heavy, you must go for a reflowable layout. And, if your content is a combination of illustrations and texts then you must choose a fixed layout.
We hope the quick FAQ section solved many of your doubts. Did not see your question? No worries! Write to us at info@suntecdigital.com and find the answer to your question in no time.