Even though the gaming industry is not very old, it has come a long way over a short interval of time.
The computer and video game development industry is believed to age back to mid 1970s. It was only in the year 2007 when it touched whopping $ 10 billion mark (approx.) in United States and emerged as a mainstream industry.
Ever since there's been no looking back and video game (also referred as interactive entertainment) industry has become a mainstream industry worldwide.
Though the video games of yesteryears were quite humble, today's kids get to explore three dimensional worlds with supreme quality surround sound, and it is common.
The use of high-tech peripherals and latest technical platforms are marking today's games that greatly differ from their earlier versions.
Virtual and social networking games are now acting as most preferred gaming platforms. Mobile games are now turning out to be multi-player games as well. The evolution of latest touch screen gadgets has introduced a new beam for game development services.
In today's scenario, game development is the latest buzzword. Today game development is an integral part of iPhone apps development, iPad apps development and apps development for android based mobile phones.
SunTec Digital is a leading iPhone, iPad and Android Application Development Services Company, proficient in exploiting multi-touch interface,  accelerometer, proximity sensor, and other such features, providing best quality apps to it's customers across the globe at affordable costs. For more details, contact us: us info@suntecdigital.com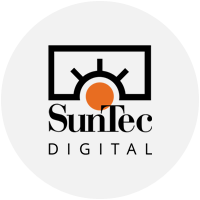 Brought to you by the Marketing and Communications Team at SunTec Digital. We publish tips & tricks, informed opinions, and interesting stories about Digital publishing solutions & industry trends. Join our mailing list to stay ahead of the curve.