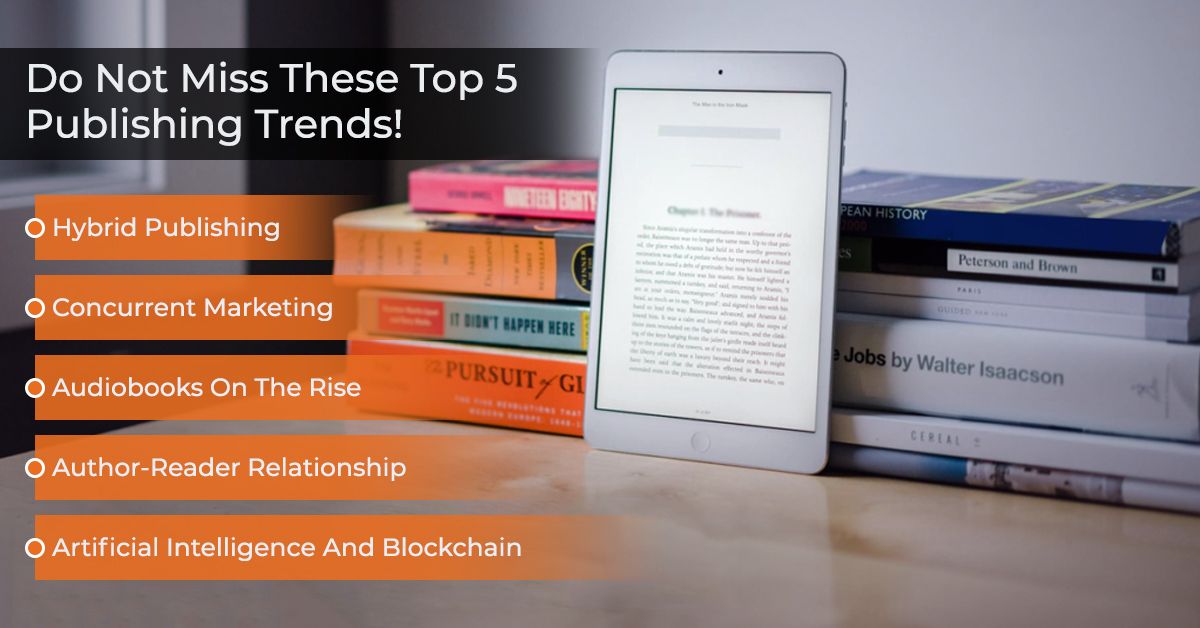 Over the past decade the publishing world has gone through a sea change; thanks to the rise of innovative formats, regulations, and digital platforms. While some of the publishers and authors are riding this new wave of technology, others are skeptical of the emerging trends. In such a scenario it makes sense to analyze the latest trends and find out how these can help publishers, and authors to carve their niche in the publishing industry. It will also help us to get a sense of where the publishing industry headed in the near future. And now, without further ado, here are the top 5 publishing industry trends:
1. Hybrid Publishing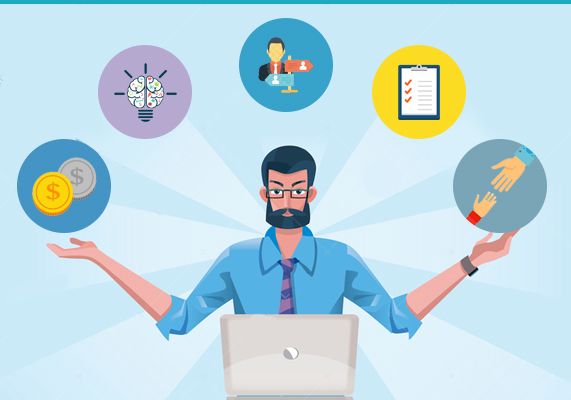 One cannot overlook the noticeable decline in traditional publishing while self-publishing is on the rise with the introduction of ebook publishing platforms. Being an indie publisher gives you complete control over creatives and revenues. But, one should never overlook the fact that successful publishing always requires a robust marketing effort. Here comes the hybrid publishing which provides a middle-ground approach. It allows authors to pay only for the services they take while being in charge of all the activities like finances and creatives. Hybrid publishing also gives you easy access to industry experts who are ready to lend a helping hand and guidance. It is already trending and with its benefits, it is surely slated to be an established industry norm.
2. Concurrent Marketing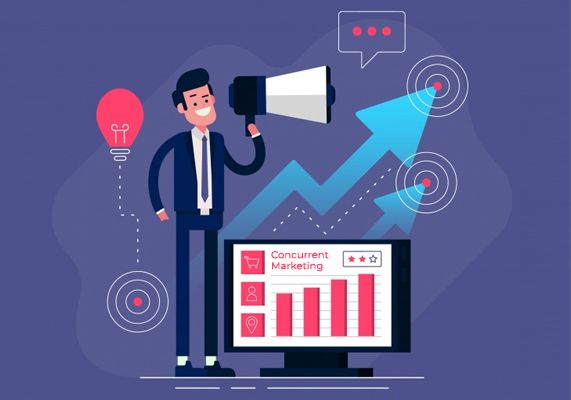 This tech-driven industry of publishing is a marketplace which is replete with millions of titles struggling to stay afloat in a sea of books. The rise of self-publishing has resulted in the publication of innumerable titles every year. Here comes the need for concurrent marketing. Even a great piece of work will not be able to survive in the sea of publications if the marketing is not concurrent with its release and beyond. Thus, authors and publishers are seen investing more dedicatedly in marketing with their ads in the right place and right medium. It effectively keeps the audience engaged through social media and ads in publishing platforms and online bookstores. Having an ongoing marketing campaign is imperative for authors in the future, not only for the lesser-known authors but also for the well-established ones.
3. Audiobooks On The Rise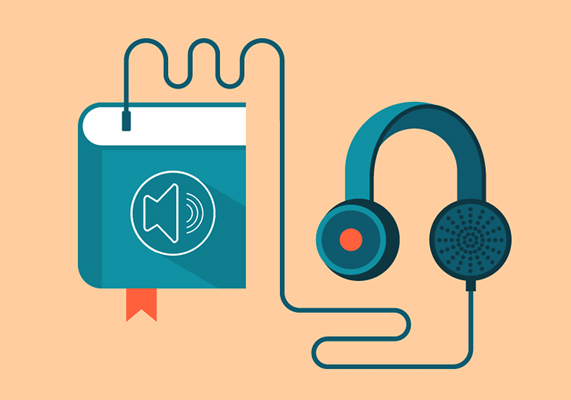 Sure, converting PDF to eBook can make your content more interactive. But, you can take interactiveness to a whole new level by converting your content to audiobooks. The past few years have witnessed a soaring growth of revenue from audiobooks at the striking rate of 30-40 percent. This significant growth of digital audiobooks kept digital publishing afloat. This indicates that digital audiobooks could be the glorious future of the publishing industry.
The Audible UK grew its revenue by 45% in 2017. The stats affirm that audiobooks are a great way of multitasking – you can listen to fiction while exercising, lying on your bed, sipping your evening tea, traveling, etc. When we notice a decline in the reading habit, audiobooks seem to be the segment growing substantially. Introduction of upgraded tech-devices, listening accessories and smart speakers will also contribute to the rise of audiobooks.
Creating an audiobook is costlier than printing a book or publishing an ebook. However, the trend is such that even popular authors are completely skipping the print route. It seems that the investment pays off and the future will witness a further rise of audiobooks.
4. Author-Reader Relationship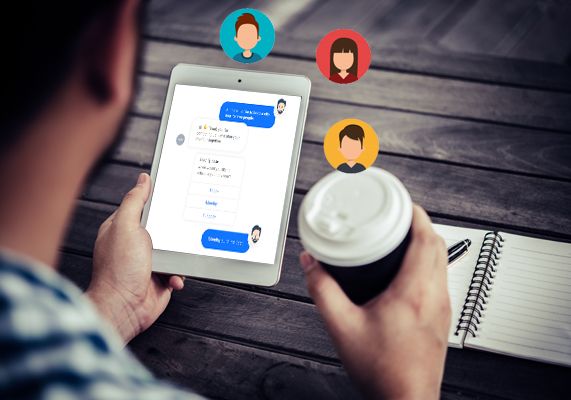 It is critical for authors to interact and engage with their readers and build a relationship. Being an author, you can encourage your audience to build a piece of the story or give their version of conclusion, interact with them through social media or podcasts, creating discussions and fan forums to seek their feedback and suggestions. This not only helps in building author loyalty but also goes beyond mere publishing while keeping readers waiting for the next announcement. Besides, collaborations among authors, bloggers, vloggers, and influencers are also on the rise. They support each other in ways like posting reviews and recommendations while generating more awareness among their followers.
Successful authors are often seen creating a niche to cultivate their own community and have better engagement with the audience. It is because the publishing industry is becoming increasingly segmented. Readers have individual interests. And, they attach their loyalty to authors in those particular segments where their interest lies. This loyalty goes beyond format and widens the reach across the world. Thus, authors who create their own niche, excel in developing community and loyalty will be the most successful in the near future.
5. Artificial Intelligence And Blockchain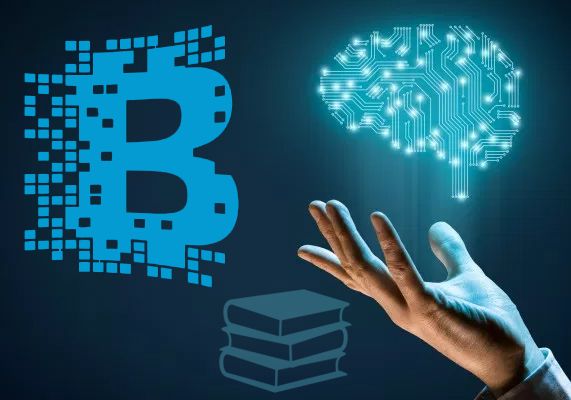 Artificial Intelligence and Blockchain are technologies that have significantly impacted many industries and will continue to trend in the future too. The publishing industry too can benefit from these technologies. One can leverage AI in analytics and marketing. It will help authors to find the right audience for their title and identify a reader's requirements and interests. Some online book recommendation systems are adopting different forms of AI to project and analyze recommendations based on past purchases and browsing history.
Blockchain has the potential to bring new opportunities for the publishing world. Since transparency is one of blockchain's key USPs. We can leverage it as a potential application in intellectual property (IP) ownership. Blockchain can help to trace and equip every IP with a digital fingerprint, which can be changed in accordance with the licensing and ownership status. Furthermore, it enables efficient micropayments that go straight to authors, allow optimized distribution and give better copyright protection.
Conclusion
Technology is ever-growing. The machine dominated culture is largely impacting human behavior. It impacts industries in different ways and results in intriguing trends. Publishing is another industry which has been positively impacted. The eBooks and other sources of knowledge need to evolve to keep up with changing technology and human behavior.
What we are seeing in this blog is just a glimpse of what we expect in the publishing industry in the future. What we should focus on is to stay ahead of the trends and be a pioneer in the conservation of an industry.
Partner With SunTec Digital For All Your Publishing Needs
Drop a mail at info@suntecdigital.com to get comprehensive publishing solutions from ebook publishing experts who are skilled in integrating advanced technologies into digital content.